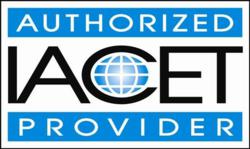 Atlanta, Georgia (PRWEB) December 20, 2011
The International Association for Continuing Education and Training (IACET) has awarded HomeTown Health, LLC the prestigious Authorized Provider status. IACET Authorized Providers are the only organizations approved to offer IACET Continuing Education Units (CEUs). The recognition period extends for five years, and includes all programs offered or created during that time.
HomeTown Health, LLC is proud of our education programs which train over 4500 healthcare professionals each year in important survival skills that help our members provide healthcare of high quality, easy access, and competitive costs while operating under a heavily regulated rate environment and utilizing an electronic health record., stated Jimmy Lewis, HomeTown Health CEO. Lewis added, Our partnership with IACET is a demonstration of our commitment to lifelong learning and high standards for all of our programs, and we are very pleased to join such a prestigious organization as well as an elite group of organizations that offer excellent continuing education and training programs.
We are pleased to have HomeTown Health, LLC as an Authorized Provider organization, stated Francenia Johnson, President of IACET and Supervisor of Operations and Measurements at Memphis Light, Gas and Water Division (MLGW) in Memphis, TN. Johnson added, HomeTown Health, LLC joins nearly 650 organizations around the globe that have had their programs vetted by third-party experts in continuing education to ensure the highest possible standards are met.
HomeTown Health provides training to hospital and physician office employees nationwide, live and online at http://www.hthu.net, in the: