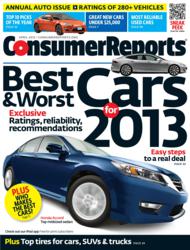 Yonkers, NY (PRWEB) February 26, 2013
Last year, not a single vehicle from Honda made it onto Consumer Reports annual Top Picks list. This year, three models from the automakerthe Accord, CR-V and Odysseyhave earned positions in the list, which has new winners in seven of its ten categories. Two sister vehicles, the Scion FR-S and Subaru BRZ, tied in the Sports Cars category.
Consumer Reports 2013 Top Picks report, Car Brand Report Cards and other key findings from the Annual Auto Issue were released at a press conference today before the Washington Automotive Press Association (WAPA) in Washington, D.C. For more details and videos of the Top Picks, go to http://www.ConsumerReports.org.
The 2013 redesign of the Honda Accord sent the sedan to the top of its class earning its position as Consumer Reports best Midsized Sedan. After a shaky first-year start, improved reliability helped the Honda Odyssey clinch the top spot in the Minivan category. The super-practical and reliable Honda CR-V floated to the top in the Small SUV category, since CR has not yet tested the redesigned Toyota RAV4 last years pick and Subaru Forester, removing them from contention.
The fun-to-drive Scion FR-S and Subaru BRZ, co-developed by Subaru and Toyota, were both deemed Top Picks in the Sports Cars category because of their super-sharp handling, ample acceleration and impressive gas mileage for a reasonable cost.
This years list has received an overhaul led by Hondas return. After several years marked by some so-so products, its comeback is led by the Accords redesign and the well-rounded performance and reliability of the CR-V and Odyssey, said Rik Paul, Consumer Reports automotive editor.
For the tenth consecutive year, the Toyota Prius reigns as CRs Top Pick for Green Cara position it has held a total of twelve times. The only other vehicle ever to be named a Top Pick in the Green Car category was the Honda Civic Hybridwhich took the honor in 2003. The Prius continues to offer the best fuel economy, at 44 mpg overall, of any five-passenger, non-plug-in vehicle.
This years Top Pick list also sees the return of two European automakers, Audi and BMW. The BMW 328i was named Top Pick in the Sports Sedan category while the Audi A6 was named Top Pick in the Luxury Car category. Neither carmaker has had a Top Pick in the past 10 years. The A6 was praised for its comfortable ride, agility and superb interior quality and the 328i for its combination of handling and impressive gas mileage.
Consumer Reports Top Picks are the best all-around models in their categories, chosen from more than 280 vehicles the organization has recently tested. Top Pick models must meet CRs stringent criteria in three areas: road test, reliability, and safety. They must rank at or near the top of their category on overall road test scores; they must have earned an average or better predicted-reliability Rating, based on problems Consumer Reports subscribers reported on 1.2 million vehicles in the latest survey; and they must perform adequately if tested in crash or rollover tests by the government or the insurance industry.
Consumer Reports 2013 Top Picks list is rounded out by the Hyundai Elantra, Subaru Impreza, and Toyota Highlander. After a one-year hiatus, the Hyundai Elantra, which delivers a lot for the money, returns to CRs Top Pick list in the Budget Car category. For the second consecutive year, the Subaru Impreza has been named Top Pick Compact Car, with both the sedan and hatchback version noted for their compliant ride and impressive fuel economy for all-wheel-drive cars. The Toyota Highlanders comfort, functionality and consistent above-average reliability helped stake its claim as Top Pick Midsized SUV. The category for Top Pick Pickup Truck takes a break this year because CR has not yet tested two important contenders: the extensively updated Ram 1500 and the redesigned Chevrolet Silverado/GMC Sierra.
Consumer Reports 2013 Top Picks By Category:
MIDSIZED SEDAN: Honda Accord ($ 23,270 to $ 30,860). Honda nailed it with this redesign its roomy, nice to drive, well equipped and very fuel efficient. With its four-cylinder engine, the Accord squeezes out 30 mpg overall and 40 on the highway, which is as good as the tiny Honda Fit. Higher-trim models have advanced safety features seldom found in this category; all models come with a standard back-up camera.
SPORTS CARS: Scion FR-S ($ 25,025) and Subaru BRZ ($ 27,117). Co-developed by Subaru and Toyota, which markets the Scion brand, both are exhilarating to drive, with super-sharp handling, excellent braking, and ample acceleration. While they are dedicated rear-wheel-drive sports cars with jittery rides, noisy cabins and small rear seats, their impressive gas mileage and reasonable sticker prices are welcome nods towards practicality.
BUDGET CAR: Hyundai Elantra ($ 18,445). One of CRs top-rated compact sedans, the well-rounded Elantra delivers a lot for the money. Its roomier and more refined than a typical subcompact yet gets competitive fuel economy. The Elantra also provides nimble handling, a fairly comfortable ride, a smooth, responsive powertrain, and a well-finished interior at an affordable price.
GREEN CAR: Toyota Prius ($ 26,750). Todays pure electric cars are getting the equivalent of 100 or more mpg. But no current plug-in car can match the Prius hatchback for its blend of fuel efficiency, practicality, and affordability. Its 44 overall mpg is still the best CR has measured in any five-passenger, non-plug-in-vehicle. The Prius roomy interior, comfortable ride, hatchback versatility and low running costs make it easy to live with.
COMPACT CAR: Subaru Impreza (Sedan, $ 21,345; hatchback $ 22,345). The 2012 redesign breathed new life into the all-wheel-drive Impreza. Both sedan and hatchback versions are good sensible cars, with nimble handling and a compliant, absorbent ride that rivals some luxury sedans. Fuel economy is impressive for an AWD car. And the roomy interior, spacious rear seat, simple controls, and refreshingly good visibility make it easy to live with.
LUXURY CAR: Audi A6 ($ 56,295). Redesigned for 2012, the A6 is agile, quick, and a joy to drive, surrounding drivers and passengers with a sumptuous, impeccably finished cabin thats brimming with the latest high-tech features. The A6s potent, supercharged V6 engine, super-smooth eight-speed automatic transmission, and comfortable ride add to the business-class feel. It returns respectable gas mileage, even with all-wheel drive.
MIDSIZED SUV: Toyota Highlander ($ 38,578 to $ 47,255). For those who want the practicality of an SUV with the refinement of a good sedan, it provides a quiet, well-finished cabin, as well as a cushy ride, secure handling, and a smooth powertrain. The Highlander has also consistently maintained above-average reliability.
MINIVAN: Honda Odyssey ($ 36,830). With improved reliability helping it earn the top spot among family haulers, it provides a comfortable ride and a roomy, quiet, and versatile cabin. The V6 engine performs well and delivers a competitive 19 mpg. And a backup camera a great safety feature is now standard on all models.
SMALL SUV: Honda CR-V ($ 26,455). Virtues include a smooth, responsive powertrain, good fuel economy, a compliant ride, excellent braking, a roomy rear seat, very functional interior, standard backup camera, and outstanding reliability. Its also one of the more competitively priced choices in the class.
SPORTS SEDAN: BMW 328i ($ 43,195). With its recent redesign, the 328i has become roomier, more luxurious and more fuel efficient while retaining most of its sporty, fun-to-drive characters. Ride comfort and fit and finish are impressive. And its 2.0-liter, turbocharged four-cylinder engine delivers quick acceleration, while posting the best gas mileage in its class.