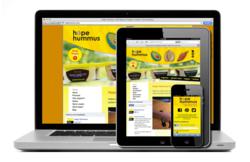 Boulder, Colorado (PRWEB) December 20, 2012
Boulder-based Hope Hummus recently released a mobile website with a built-in store locator to help their customers not only find which stores carry their product, but also to help health-conscious consumers research the products ingredient information from their mobile devices.
The mobile websites built-in store locator integrates with your phones GPS, so you can quickly find the nearest stores that sell Hope Hummus, Hope Hummus President Robbie Rech said.
78 percent of mobile shoppers say theyve used their smartphone to find a store, according to a new data released from Nielsen on December 4, 2012 in an article called Mobile Devices Empower Todays Shoppers In-Store and Online.
"We designed our mobile website so that shoppers can quickly research health-related information about our products. For instance, if someone wants to verify that we have gluten-free hummus, or if they want more information about the ingredients, they can look it up right there on their phone," Rech said.
Hope Hummus makes the highest quality organic, gluten-free, vegan, and kosher hummus available on the market. They recently expanded distribution into the West, Southwest, Pacific Northwest, and Rocky Mountain Region.
Hope Hummus offers a variety of creative hummus flavors including Spicy Avocado, Sweet Potato, Jalape