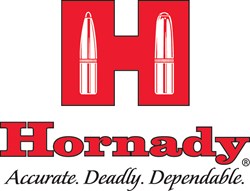 (PRWEB) July 24, 2013
Grand Island, NE: Hornady 17 Hornet Superformance Varmint Ammunition has been named the 2013 IPC Shooting Industry Trade Awards Rifle Cartridge of the Year. Hornady distributor, Edgar Brothers, one of the most established importers and wholesalers of firearms, ammunition and associated products in the UK and Northern Ireland, entered the product into the annual competition.
At Hornady, it is very gratifying to be recognized by an organization as prestigious as IPC Media, said Steve Hornady, President of Hornady Manufacturing. We are very pleased and honored that Edgar Brothers entered Hornady 17 Hornet Superformance Varmint Ammunition into the competition. Winning this award sends a very clear message to all of the UK that Hornady offers the best in accuracy and dependability.
The IPC Media hosts the only annual shooting industry awards in the UK. Now in its 18th year, the IPC Media awards celebrate the UK shooting industrys significant achievements and innovations throughout the previous year, in a variety of categories. IPC Media is UKs leading consumer magazine publisher, including shooting-related titles, The Field, The Shooting Gazette, Sporting Gun, and Shooting Times. IPC Shooting Industry Trade Awards are chosen by a judging panel of highly respected editors and experts from the world of shooting.
The IPC Awards are highly prestigious, said Simon Karr, Public Relations and Marketing Consultant for Edgar Brothers. This is a serious accolade, and something Edgar Brothers is very proud to have won.
Available in 15.5 gr. NTX and 20 gr. V-MAX offerings, the 17 Hornet is built upon Hornady Superformance propellant technology. Superformance Varmint ammunition delivers accuracy, increased range, flatter trajectory, less wind drift and devastating terminal results out to 300 yards. An economical price and reduced recoil makes the 17 Hornet a pleasure to shoot.
For more information, visit http://www.hornady.com/store/17-Hornet.
Founded in 1949, Hornady Manufacturing Company is a family owned business headquartered in Grand Island, Nebraska. Proudly manufacturing products that are made in the USA, Hornady Manufacturing is a world leader in bullet, ammunition, reloading tool and accessory design and manufacture.
For further information regarding Hornady products, visit our web site at http://www.hornady.com. Media members interested in Hornady products for editorial review should contact Neal Emery at nemery(at)hornady(dot)com.