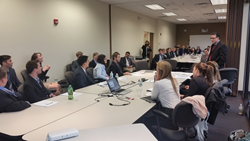 Houghton, New York (PRWEB) May 01, 2015
As the senior capstone project this year, Houghton College business students worked with multibillion dollar Fortune 500 Company, Paychex, to assess the company, its competitors, the industry, the regulatory environment and the needs of its customers.
This project aimed to provide Paychex executives with both an analysis and recommendations to stimulate new ideas from which the company may benefit and make positive moves for the future. The project also gives Houghton business students real-life hands-on experience by working with a successful publicly traded company.
Its tricky to walk into a company and tell them what they should be doing or critique them for what theyre not doing right, said senior vice president and chief financial officer for Paychex, Efrain Rivera, to the Houghton students. Kudos to you for doing a really fantastic job. You all were well-prepared and did as good a job as many of the professionals I hear pretty regularly.
The research presented by Houghton students was a result of months of gathering company information and evaluating current business markets, competition, trends and government regulations along with researching customer needs.
On April 23, the project came to a culmination with a two-hour live presentation of strategy and recommendations to Paychexs CFO, Rivera.
Joanna Sudlow, a senior business student at Houghton, said, The project with Paychex was a unique opportunity. It was an honor and privilege for us to present our strategy recommendations for Paychex.
Let me say how impressed I was with both the ultimate content of our students strategy recommendations to Paychex and the excellent job they did in communicating this to their CFO, commented Ken Bates, professor and chair for the department of business and economics at Houghton College.
Presenters included the following business students: Josiah Evans, Isaac Feulmer, Molly Freihofer, Luke Khachadourian, Emily Mertzlufft, Kevin Miranda, Randy Moyer, Bradley Oliver, Sara Schwingel, Sarah Slater, Joanna Sudlow, Moeun Sun, Connor Vogan, Emma Webb and Amber Wolcott.
The following business students also participated in the project: Jalene Amling, Sheila Battaglia, Brennen Campbell, Tyler Campbell, Seth Cornell, Brandon Davis, Jessie Devuyst, Brian Dickenson, Veronica Gauer, Veronica Gerace, Meghan Hardy, Michael Kerr, Brendan Loewen, Christopher McKay, Jonathon Meyer, Mallory Miles, Jonathan Orfe, George Payne, Nathan Sircy, Enrico Sukhdeo, David Weigle and Morgan York.
Paychex was founded in 1971 by B. Thomas Golisano. The company currently employees more than 12,000 employees and serves more than a half a million small- to medium-sized businesses nationwide, producing about $ 2.3 billion in revenue in fiscal year 2013. With a wide range of services including payroll processing, retirement services, insurance, and a fully outsourced human resource solution, Paychex customizes its offering to the client's business whether small or large, simple or complex.
Houghton College is a liberal arts institution that challenges students to academic excellence – in the context of a relevant Christian community – and empowers them to enrich the world. The college of 1,000 students is located in Western New York, just 65 miles from Buffalo and Rochester. For more information, please visit http://www.houghton.edu.