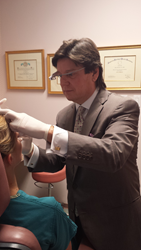 (PRWEB) March 14, 2014
On February 28, 2014, Dr. Paul Vitenas, Jr. began using Google Glass during non-invasive treatments in his Houston cosmetic surgery office. The board certified plastic surgeon and founder of Vitenas Cosmetic Surgery used the Google Glass for the first time to perform a Botox treatment on a patient looking to smooth out her forehead and eye wrinkles, with plans of incorporating this new technology during his surgical procedures in the near future.
This is a new and amazing technology that allows other people to see what I am seeing during the procedure, said Dr. Vitenas. I can see this being used as a teaching technique in universities and residency programs.
According to Dr. Vitenas, the primary benefit of using Google Glass is the ability to view the procedure after he has finished from his same point of view. There are no risks with using the Google Glass during surgical or non-surgical procedures, added Vitenas.
Only about 8,000 people have been able to purchase Google Glass so far. The item will go on sale to the general public sometime this summer.
Although this was Dr. Vitenas first time to use Google Glass in his practice, he is finding opportunities to utilize the product more often and plans to incorporate it in his personal life as well.
My goal is to continuously make patients feel comfortable and enhance their overall experience at my office, said Dr. Vitenas.
Dr. Paul Vitenas, Jr. is a Board Certified Plastic Surgeon with over 20 years of experience in cosmetic surgery. He is highly sought after for his extensive skill and his reputation. His specialties include facelift, breast augmentation, body lift, liposuction, and tummy tuck. He believes that building a relationship with his patients allows them to understand what realistic expectations they can achieve. Dr. Vitenas uses state-of-the-art technology and time-tested technique, science and art. Dr. Vitenas offers free consultations in his Houston office. Learn more about Dr. Vitenas and other awards he has received in recognition of his surgical abilities at http://www.drvitenas.com.