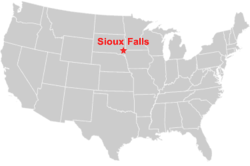 New York, NY (PRWEB) December 10, 2012
To help provide its customers with a more rewarding customer care experience, Plastyc announced that effective immediately, phone-based customer support services are handled by a Sioux Falls-based contact center operated by Midco Connections.
Plastyc chose Midco because its customer care professionals are known for their fast, helpful, naturally friendly manner and clear, Midwestern English, and because Midco's flexible technology meets the highest security standards.
"When you have a question about your money, you don't just need fast, correct answers, you need to trust the people you're talking to and leave the call feeling satisfied," said Patrice Peyret, CEO of Plastyc. "Midco's exceptional, US-based professionals help make our cardholders' support calls more personal and rewarding."
Plastycs UPside prepaid cardholders can get help by phone 24 x 7 for lost or stolen cards, transaction disputes, inquiries about deposits, and help with unique features such as on-demand paper checks, mobile phone top ups and cash back rewards. In addition, Plastyc provides email-based customer support out of its New York facility.
Cardholders can be assured that all information is protected. As a PCI-DSS Level 1 Certified contact center, Midco Connections meets the strict security standards, policies and procedures necessary to handle card transaction data and cardholder information. And, while Midco Connections does not directly process the banking data, the certification assures clients such as Plastyc that Midco will provide secure storage of customer data.
We are pleased to have Midco help us with increasing the level of trust that consumers place in our products and in the co-branded cards we operate for other businesses, Peyret said.

Midco Connections is truly excited about the opportunity to deliver customer support for a leader in the prepaid and financial services markets," said Midco Vice President Cordell Brooks. "The Plastyc program delivers a complete financial service to customers, and our organization is positioned to deliver leading edge quality in support of the Plastyc mission.
###
About Midco Connections
Midco Connections is a wholly owned subsidiary of Midcontinent Media and supports locations in Sioux Falls, South Dakota and Fargo, North Dakota. Midco was founded in 1982 as a Telephone Answering Service, and in just a few years it became clear that our customers wanted more than just an answering service they wanted comprehensive customer care offering product knowledge, transaction information, answers to callers questions, data intake ability and above all excellent customer care. In short, they wanted quality call center services. Find more information about Midco Connections at http://www.midcoconnections.com.
About Plastyc

Plastyc delivers good banking to all by providing 24×7 access to FDIC-insured accounts through any Internet-connected computer or cell phone. Unlike traditional checking accounts, Plastyc's iBankUP portal and UPside cards never incur overdrafts, and they offer better services at lower prices, with more ways to receive money and no risk of over-spending it. Plastyc's principals and directors have a track record as financial services innovators at companies including Gemalto, Oberthur, Signio (now part of PayPal, an eBay company), ClairMail, Lending Club, and Genetic Finance. Plastyc is privately held with headquarters in New York City. For more on Plastyc, visit http://www.plastyc.com.