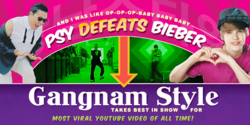 Boston, Massachusetts (PRWEB) November 24, 2012
WordStream Inc., a provider of PPC management software, today announced that Psy and his legendary k-pop sensation, "Gangnam Style" has become the most viewed YouTube video of all time with approximately 805 million views, beating out former YouTube champ, Justin Bieber. To commemorate this achievement, WordStream has released a new infographic focusing on the rise of k-pop sensation Psy and his #1 hit, "Gangnam Style."
The infographic pits recent Korean pop star Psy head-to-head against teen heart-throb Justin Bieber, grading the artists on three categories: social media exposure, celebrity support, and fan following. It concludes that Psy wins with the enormous success of "Gangnam Style," but Bieber's devoted fans aren't likely to back down easily.
Findings include:

— As of today, "Gangnam Style" has reached approximately 805 Million views, whereas the former top viewed video was Bieber's "Baby," with 804 Million.

— WordStream analysts project that on December 11, 2012, "Gangnam Style" will reach 1 billion views; the first YouTube video cross that mark.

— WordStream estimates that every minute, "Gangnam Style" receives 4062 video views; "Baby" gets 550.

— "Gangnam Style" is the Most Liked Video on YouTube, "Baby" is the most Disliked Video on YouTube

— Justin Bieber's YouTube Channel has 2.3 million subscribers, Psy's has 0.9 million.
"While the internet is no stranger to viral YouTube videos, 'Gangnam Style' has shown rare endurance for a one-hit wonder," said Larry Kim, WordStream Founder & CTO. "Where other videos drop off the radar, 'Gangnam Style' seems to multiply its supporters with each week — the quirky k-pop hit has continued to thrive long after many pundits have prophesied its end. This astonishing achievement has redefined the very notion of viral video success."
View WordStream's "Psy Beats Bieber, Gangnam Style" Infographic to learn more about Psy's rise to fame and how the Korean musician's success matches up against Bieber.
About WordStream
WordStream Inc. provides paid search management software and PPC services that help marketers get better results from PPC. The company's services deliver quality traffic, clicks and conversions across all major search engines including Google, Bing and Yahoo Search. WordStream's keyword tools, AdWords tools, and AdWords Quality Score optimization tools help grow your business and drive better results.
Contact

Larry Kim

WordStream, Inc.

lkim (at) wordstream (dot) com