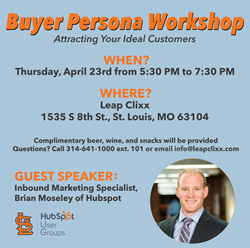 St. Louis, MO (PRWEB) April 21, 2015
Businesses of all sizes across the St. Louis area that want to discover how to more effectively sell to their customers should attend the no-cost workshop on Buyer Personas hosted by St. Louis based Inbound Marketing Agency, Leap Clixx. The interactive event, which is suitable for entrepreneurs, small businesses, mid-size firms, and enterprise-level organizations, will take place on April 23, 2015 from 5:30-7:30pm (CST) at Leap Clixxs main office at 1535 South 8th Street in St. Louis.
Those in attendance will benefit from an insightful and interactive workshop on Buyer Personas led by Leap Clixxs co-founder Chans Weber, who will joined by special guest, Brian Moseley, an Inbound Marketing Specialist from HubSpot. Key topics that will be covered include:

Inbound Marketing: What it is & how it differs from traditional marketing
Buyer Personas: Who they are & why they are so important
Interactive Workshop: How to develop your buyer personas
How to turn your buyer personas into everyday paying customers
Those in attendance will also have the opportunity to ask questions and network. Complimentary snacks and refreshments, including wine and beer, will also be available.
The importance of buyer personas cannot be underestimated, commented Leap Clixxs Chans Weber. On April 23, we look forward to sharing valuable insiders tips and techniques that will help businesses better understand who their ideal customers are and how to best market to these personas.
Online registration is open now at http://stlhug.eventbrite.com and RSVPs are required. Those interested in attending are urged to sign-up now. Leap Clixxs previous workshop on Inbound Marketing last December was very well attended, and the upcoming event is expected to be full.
About Leap Clixx:
Leap Clixx is an inbound marketing agency located in St. Louis that works with businesses everyday to help them reach their goals through a process called inbound marketing. Inbound marketing involves attracting the right kind of visitor to a website, converting those visitors into leads, and nurturing those leads into paying customers. Leap Clixx is the team that helps businesses get their inbound machine up and running, so they can more easily reach their goals. They also provide search engine optimization, search engine marketing, social media, and retargeting campaigns to complement and enhance their marketing efforts. Learn more at http://www.leapclixx.com
About HubSpot:
HubSpot is the worlds leading inbound marketing and sales platform. Since 2006, HubSpot has been on a mission to make the world more inbound. HubSpots inbound marketing software, ranked #1 in customer satisfaction by VentureBeat and G2Crowd, includes social media publishing and monitoring, blogging, SEO, website content management, email marketing, marketing automation, and reporting and analytics, all in one integrated platform. Sidekick, HubSpots award-winning sales application, enables sales and service teams to have more effective conversations with leads, prospects, and customers. HubSpot is headquartered in Cambridge, MA with offices in Dublin, Ireland, and Sydney, Australia, and has been recognized by Inc., Forbes, and Deloitte as one of the worlds fastest-growing companies. Learn more at http://www.hubspot.com