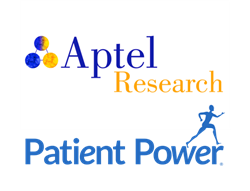 Cambridge, MA and Seattle, WA (PRWEB) September 03, 2014
Aptel Research, a respected healthcare market research firm, and Patient Power, a leading producer of online educational content for cancer patients, have announced key results from the Patient Power Summer 2014 Survey, a comprehensive online survey of almost 700 US-based cancer patients and caregivers use of and experience with online health information and its impact. The key findings of the survey demonstrate the high level of online engagement of cancer patients and their frequent reliance today on online patient communities as a primary source of credible and up-to-date health information.
The survey is part of a new collaboration between Aptel Research and Patient Power in an ongoing effort to help healthcare companies better support and understand cancer patients and their changing journey today. This comes at a time when breakthrough therapies are being approved at increasing speed, more clinical trials are underway, and cancer patients in many conditions are living longer, and better.
The jointly conducted survey garnered responses from nearly 700 US-based users of Patient Power to reveal their use of and experience with online health information, its overall impact on their lives, and its specific effect on patient-physician dialogue.
The survey results indicate that over 75% of respondents look daily or weekly for health websites they rely on the most for credible and up-to-date information about their cancer, respondents overwhelmingly ranked Patient Power and other online patient communities and advocacy websites as their top choices, while pharmaceutical company and disease education websites were ranked last. Cancer center websites received a middle ranking. General health websites ranked lower.