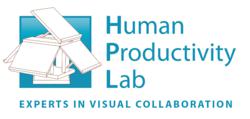 Ashburn, VA (PRWEB) May 29, 2013
The visual collaboration consultancy Human Productivity Lab (HPL) is pleased to announce the addition of an internationally renowned team of experts to significantly expand the Labs consulting capabilities for enterprise clients and vendors/service providers.
The HPL team is now comprised of eleven consultants with diverse specialties within the fields of videoconferencing, telepresence, robotic telepresence, streaming media, unified communications, and visual collaboration. The group comprises a talent pool that includes multiple former CEOs/company founders, multiple inventors and intellectual property developers, and specialists in the design, implementation, and adoption of visual collaboration solutions.
Howard Lichtman, HPL founder and president states: We now have experts and capabilities to help organizations of any size and our team will be focused on engagements for end-users, investors and vendors/service providers.
For enterprise clients the Lab has the ability to create/improve/expand any size visual collaboration program from building an internal Video Network Operations Center (VNOC) or video call center to designing a global inter-company visual collaboration program to connect with partners, vendors, and customers. The Lab can help develop VNOC personnel, generate specific playbook workflow processes, manage RFP generation and bid management, and provide VNOC services curriculum and training.
For vendors and service providers, the lab has the expertise to create companies, products, services, and intellectual property. The Lab also has the expertise to assist with product positioning and strategy, corporate development.
For investors, the Lab can assist with due diligence on companies in the visual collaboration industry.
Multiple Human Productivity Lab consultants will be available to meet with potential clients and partners at the InfoComm tradeshow in Orlando, Florida the week of June 10-14th.
The HPL team now includes:
Scott AllendeVaux