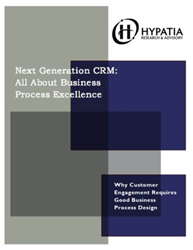 Boston, MA (PRWEB) October 08, 2014
Industry analyst and market research firm Hypatia Research Group announces a new primary research study entitled Next Generation CRM: Its All About Business Process Excellence.
This twenty-five page study provides end-user organizations with best practices, vendor evaluations, business return on investment case studies and an analysis of how and why companies invest in customer relationship management (CRM) and engagement software solutions. In short, our research provides actionable insight that companies may use in compiling a vendor short list, request for qualifications and best practice terms of engagement with CRM software vendors.
Co-author and senior analyst Howard Baldwin noted, When customer relationship management (CRM) software first debuted, it was a miracle. For the first time, companies didnt have to build a database of prospects and customers to track their preferences and purchases. There it was, efficiently organized. With analytics, companies could see who patronized them the most, and who generated the most profit. Thats why, along with ERP software, CRM software has become one of the few successful enterprise software mainstays.
According to Leslie Ament, SVP of research and principal analyst, Customer data, after all, doesnt just live in a CRM application; it lives throughout the enterprise and beyond. Our assessment is that an integrated BPM/CRM system that is greater than the sum of its parts, one that allows the input and output of information in a virtuous circle, so that CRM data informs business process management (BPM) data and vice versa should be a goal for companies of all sizes and industries. We know that a more-intelligent system gives companies the ability to enhance a key competitive differentiators: the customer experience. Being smarter about customers not only increases customer engagement, but it has the potential to increase revenues from customers who are delighted with the service or product theyve received.
Research Approach

Hypatia Research surveyed 800 global executives directly involved with enterprise customer engagement initiatives, software usage and selection criteria. Only the 500 respondents that actually utilize, recommend, influence, hold budget or veto power over the purchase of CRM software were utilized in our analysis. Due diligence also included a 1) CRM software vendor briefings, 2) product demonstration and 3) customer reference interviews. In certain cases, customer references and product demonstrations were obtained without vendor involvement through our professional network.
About

Industry analyst and market research firm Hypatia Research Group delivers high impact market intelligence, industry benchmarking, best practice, maturity model and vendor selection research for how businesses use software technology, professional services and management consulting providers to capture, manage, analyze and apply customer and market intelligence to enhance corporate performance and to accelerate growth. Coverage includes: Customer Management (CRM), Business Intelligence, Advanced Analytics, Big Data Insights, Customer Analytics, Social Media, Text Analytics, Digital Marketing, Information Management, Customer Data Management/Data Quality and GRC. Since 2001, clients have relied on Hypatia for industry insight, expertise and independent market research for guidance in assessing various technology and service options.
For advisory, licensing or further analysis on this topic by company size, industry, job function or geography, please contact Research(at)HypatiaResearch.com or call 781-862-5106.
Contact:

Zvi Ruder, SVP Operations & Intellectual Property Licensing

Hypatia Research Group

ZGR(at)HypatiaResearch.com

781-862-5106