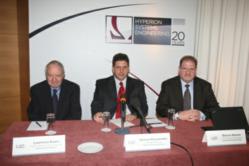 Nicosia, Cyprus (PRWEB UK) 28 February 2013
Hyperion, a globally operating, independent provider of engineering services and solutions, celebrates its 20-year anniversary. The occasion was marked by a Press Conference at Nicosia's Hilton Park Hotel, earlier in February, where Dr. Symeon Kassianides, Chairman and CEO of Hyperion, Stavros Spanos, Hyperions EVP of Marketing & Partnerships and Professor Lawrence Evans, Emeritus Professor of Chemical Engineering, Massachusetts Institute of Technology, Chairman of Rive Technology Inc. and former Director of Hyperion, spoke on the company's present and future plans.
In his short address, Dr. Kassianides made reference to the recent expansion of the Group in the US with the incorporation of a subsidiary in Orlando, FL. He also stated that 2013 began on a high note for the company, among others with the award to Hyperion by the President of the Republic, of the Cyprus Export Services Award for 2011, in a ceremony that took place at the beginning of February 2012 at the presidential palace. The Cyprus Export Awards are organized by the Cyprus Chamber of Commerce and Industry and the Ministry of Trade, Commerce and Tourism, and they were awarded in recognition of Hyperion's ongoing efforts to improve quality and increase the volume of services and solutions to its customers worldwide.
Hyperion's activities for the 2013 celebration year include:


The inaugural Hyperion Lecture at the University of Cyprus at the beginning of February, with guest speaker Dr. Lawrence B. Evans, one of the founding members of Hyperion, who also attended the Press Conference as Hyperions honored guest. The lecture entitled Fostering Innovation with an Impact: The MIT Experience in Creating Entrepreneurial Success, is part of a corporate programme which Hyperion established this year with the University of Cyprus.
The Gold Sponsorhip of the inaugural Eastern Mediterranean Gas Conference (EMGC), on 810 April 2013, in Nicosia. The EMGC is the first event of its kind in Cyprus organized "from within" the hydrocarbons community by Gulf Publishing Co., the publisher of HYDROCARBON PROCESSING and WORLD OIL magazines, two of the most reputable reference publications of the industry. The conference will give special focus to the latest market and technology trends related to the exploration, drilling, production, processing and marketing of natural gas in the Cypriot and Israeli sectors of the Eastern Mediterranean Subsea and is expected to cover such critical issues as resource potential, leasing/permitting, development plans, infrastructure requirements, governmental plans and regulations, and more.