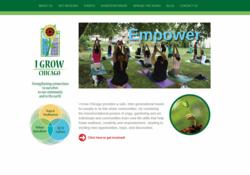 (PRWEB) May 02, 2013
I Grow Chicago has launched their new website with the creative talents of Idea Marketing Group. The new website features a variety of changes that will help their organization and community grow.
I grow Chicago is a Chicago non-profit organization that is dedicated to making its community a greater place and bettering the individuals that live within. They focus on providing a safe community for people of all ages where they can spend time and not worry about the at-risk communities that they are surrounded by. They work to empower their community by teaching farming and nutrition through educational programs as well as yoga and the arts to encourage creativity. I Grow Chicago was looking for a website that could expand their reach and ultimately help their community even morewhich is when they decided to work with Idea Marketing Group.
The new website was built on a wordpress platform which enables front and backend users, even those who arent very tech-savvy, to be able to add and update content extremely easy. Since I Grow Chicago hosts events fairly often, wordpress is very convenient for posting information on upcoming events, results on previous events and upload new pictures.
It is great for I Grow Chicago that they can update and add events to their website to keep the community informed and to compliment a good website, Idea has also increased their SEO. Search engine optimization (SEO) helps a website appear at a higher ranking within search engine results, resulting in more traffic to the website. The website also features a direct link so that any and all visitors can pass on a donation to help I Grow Chicago with community development, which makes a big difference.
I Grow Chicago knows that because of the help of their sponsors they are able to accomplish a lot and are proud to recognize those sponsors within a section of their website. I Grow Chicago, Robin Carroll, says she is proud to help serve her community and is very happy to have a website that not only they can use but also their community.
To check out the new website please visit http://www.igrowchicago.org.