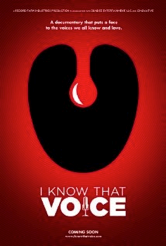 Los Angeles, CA (PRWEB) May 07, 2013
I Know That Voice, a documentary that reveals an exclusive look into the mysterious lives and humor of the actors behind the cartoon voices beloved by millions, is set to release Fall 2013. Rumors of this film on social media have erupted in pent-up demands for its release. With its YouTube trailer garnering nearly 700,000 views in less than three weeks, buzz has ignited in Hollywood and around the world from fans of all animated series, films and video games.
Emmy-nominated executive producer John Di Maggio, is the voice of Bender in Futurama, Jake the Dog in Adventure Time, Rico in The Penguins of Madagascar and Fung in Kung Fu Panda: Legends of Awesomeness.
The extensive all-star cast also features Matt Groening (The Simpsons), Tom Kenny (SpongeBob SquarePants), Seth Green (Robot Chicken, Family Guy), Billy West (Futurama, The Ren & Stimpy Show), Tara Strong (The Powerpuff Girls, My Little Pony), Jim Cummings (Winnie the Pooh), and more than 100 other talented voiceover actors from cartoons across the ages.
Record Farm Industries in association with Dundee Entertainment, LLC., and Cinovative, I Know That Voice, has reached its final stages of post-production.
Fans keep asking about a release date on our Facebook page, said producer Tommy Reid. This is a vast subject and we want to get it right and pay an unforgettable tribute to the best voiceover artists of all time.
To satisfy hungry fans appetites, every 100th person to join the VIP List on its website will receive a free poster signed by John Di Maggio. All fans who sign up will obtain exclusive information about the documentary and can pre-order the DVD.