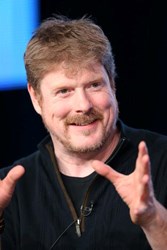 Los Angeles, CA (PRWEB) June 03, 2013
Got cartoon voice talent? I Know That Voice, a groundbreaking new documentary that unveils the intriguing lives and humor of the actors behind the most popular cartoon voices, announced its Cartoon Voice Imitation Contest.
From cartoon junkies and comic book fanatics to video game gurus of all ages and places across the globe, the Top 3 submissions will win an autographed poster signed by some of the star cast members and an I Know That Voice DVD autographed by John DiMaggio, executive producer and Emmy-nominated voice actor of renowned cartoons including Bender in Futurama. Winners will be hand picked by DiMaggio as well as the I Know That Voice team.
Participants are encouraged to post a short video to the I Know That Voice Facebook page with an impression of their favorite television cartoon voice by July 31, 2013, at 11:59 p.m., PST. DiMaggio and the I Know That Voice team will review each post and decide who has the best cartoon voice talent.
As a kid, I was always making funny voices and mimicking cartoon characters, famous people or even people I knew from around the way, said DiMaggio.
Set to release Fall 2013, I Know That Voice features John Di Maggio, who is also the voice of Jake the Dog in Adventure Time, Rico in The Penguins of Madagascar and Fung in Kung Fu Panda: Legends of Awesomeness.
The extensive star-studded cast of more than 100 talented actors also includes Matt Groening (The Simpsons), Tom Kenny (SpongeBob SquarePants), Seth Green (Robot Chicken, Family Guy), Billy West (Futurama, The Ren & Stimpy Show), Tara Strong (The Powerpuff Girls, My Little Pony), Jim Cummings (Winnie the Pooh).
Videos should be posted to the Facebook page Wall via YouTube, Vine, or any other video-posting medium. Participants must Like the Facebook page to be reviewed. Videos longer than 1 minute will be disqualified. Participants are permitted to emulate any television cartoon ever made. Only one submission is allowed.
On August 5, John DiMaggio will post a video personally announcing the best cartoon voice talents to the documentarys Facebook page and the winners will be tagged.
Im looking for some of the best cartoon voice imitators on the planet, said DiMaggio. Many people dont understand the level of difficulty associated in recreating cartoon voicesyou need to find the exact sound, frequency, and persona that is distinctive of that cartoon. Im excited to see some awesome submissions.
In an interview with A.V. Club, Billy West of Futurama and The Ren & Stimpy Show said Robin Williams understands sonic performances and how to alter the voice. He understands what it's like to have theatre of the mindand with your little strip of vocal cords, you're going to create heavens and hells and universes and populations of people, which is the whole idea that a voice person has in their head, West said. But the voice people can physically escape the sound of their own voice.
Cant get enough I Know That Voice? Every 100th person to join the exclusive VIP List on its website will win a limited collector edition poster signed by John DiMaggio. Twelve winners have been announced, and more than 1,500 fans have already subscribed. Those who sign up will get the inside scoop about the documentary and can pre-order the DVD.