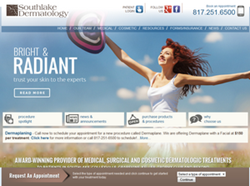 Southalke, Texas (PRWEB) October 06, 2014
Taking its online marketing program to the next level, i5 web works launched a redesigned, responsive website for Southlake Dermatology, an award-winning provider of medical, surgical and cosmetic dermatologic treatments in Dallas Fort Worth. While the URL remains the same, http://www.southlakedermatology.com, a fresh look, new images and more interactive features were incorporated into the design, which is supported by the most advanced responsive technology to ensure it displays properly on multiple devices including desktops, tablets and smart phones.
Developed and maintained by i5 web works, which also created the previous website launched in June 2011, the sites home page provides an overview of Southlake Dermatology and its services, as well as educational resources and skincare products. The Book an Appointment section is prominently displayed on the home page and throughout the website to allow patients to easily make appointments online. Contact information, social media icons and a secure patient login are also conveniently available on every page.
According to Carita Weaver, co-founder and partner of i5 web works, the new website is an important component of Southlake Dermatologys overall internet marketing program, which also includes search engine optimization, social media and an electronic newsletter.
A website is the most important tool in a companys online marketing strategy, so it makes sense to invest time and money to ensure it is up-to-date and performs well in search results, Weaver explains. Unlike most other forms of marketing, website activity is easily tracked and results are typically seen quickly via email inquiries and phone calls.
The comprehensive website is organized into seven primary sections to quickly direct patients and visitors to the information they are seeking:


Physician/provider credentials and staff photos are posted in the Our Team section.
The practices services are divided into two sections, Medical and Cosmetic, with detailed explanations for each procedure.
The Resources section includes dermatology-related videos and articles, a helpful sunscreen reference, and skincare overview.
The Forms/Insurance section allows patients to download and complete necessary paperwork prior to their appointment.
Articles, press releases and newsletters are posted in the News section.
An online contact form, policies and location map are in the Contact Us section.
A new section added to the website is Purchase Products and Procedure s, which seamlessly links to the practices e-commerce site and provides a secure platform for retail purchases.
For more information about i5 web works Internet marketing solutions in Dallas Fort Worth, go to http://www.i5ww.com or call 888-893-7519.
About i5 web works
i5 web works is an Internet marketing agency in Dallas Fort Worth. Founded in 2001, partners Michael Burns and Carita Weaver have a combined 30 years experience in developing and managing online marketing strategies for businesses in a broad range of industries. Our services, available individually or as a comprehensive program, include search engine optimization, Internet advertising, social media, email marketing, domain registration, and website design, maintenance and hosting. Creating an Internet presence requires an in-depth understanding of natural search engine optimization techniques and supporting Internet marketing programs. We work with all types of businesses and help them successfully navigate the Internet to bring new customers through the door — our motto is Be Found!