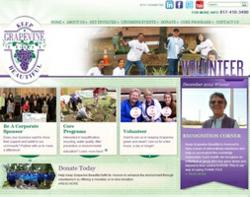 Grapevine, Texas (PRWEB) January 07, 2013
i5 web works, an award-winning Internet marketing agency in Dallas Fort Worth, is demonstrating that technology can help the environment through the launch of its latest website for Keep Grapevine Beautiful, a non-profit organization dedicated to preserving and enhancing the local natural environment through educational programs and volunteer-based projects.
According to Mary Jo Tellin, executive director of Keep Grapevine Beautiful, its website is the most important marketing tool in carrying out its mission.
"Our website serves many purposes, including volunteer recruitment, collecting donations and being an educational resource. As a non-profit organization, we do not have a big marketing budget and we felt investing in a new website was the best use of our limited funds," states Tellin, noting the agreement with i5 web works also includes Internet hosting and management services, and search engine optimization (SEO). "Not only is the new website a much better representation of who we are and what we do, but we added several features that are intended to get people more involved in our efforts."
Using the classic green and purple colors that are synonymous with Grapevine, the home page features a rotating banner of images of past volunteer projects. Information about corporate sponsorships, programs, volunteer opportunities, and donations are prominently located underneath with direct links to each section. At the bottom of the page are a newsletter signup, Facebook feed, and upcoming events calendar. Social media icons and contact information are located at the top of every page.
According to Carita Weaver, co-founder and partner of i5 web works, it was important to include interactive features on the site to engage visitors and help them find the information they are seeking.
We worked with Mary Jo to identify the most requested information to make sure it was easy to find. Also, we inserted donation links on every page since fundraising is a priority for Keep Grapevine Beautiful, explains Weaver, noting the Internet marketing agency has also designed websites for non-profits Grapevine Relief and Community Exchange (GRACE) and Arts Council Northeast.
The custom website for Keep Grapevine Beautiful is organized into six primary sections: