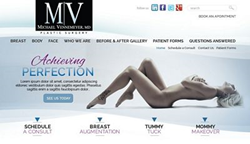 Southlake, Texas (PRWEB) June 09, 2014
i5 web works, an award-winning internet marketing agency in Dallas Fort Worth, has been selected by Southlake Cosmetic Surgery to promote the opening of its new office through a comprehensive online marketing program that includes a responsive website, search engine optimization services (SEO), social media and content marketing.
According to Michael Burns, co-founder and partner of i5 web works, a comprehensive internet marketing strategy is the most cost-effective way to reach new customers in todays online world.
As a new business, a website is the most important marketing tool and in todays mobile world, having a responsive website is a must to increase SEO search results, traffic and conversion, explains Burns, noting the company is certified in SEO and pay-per-click advertising services. There are many companies that provide one or two of these internet marketing services in Dallas Fort Worth, but very few that do it all. While we do offer individual services, we have found that the best results are achieved when all the activities are combined into a comprehensive program, which we call The Whole Shebang.
The new website, scheduled to launch late-June right before the new office opens, will provide information about Dr. Michael Vennemeyer, plastic surgeon and founder of Southlake Cosmetic Surgery, along with his services that include breast augmentation, face lift, liposuction and nose reconstruction. In addition, i5 web works is managing offline marketing services including branding, public relations, special events and print advertising.
For more information about i5 web works, go to http://www.i5ww.com or call 888-893-7519.
About i5 web works
i5 web works is an Internet marketing agency in Dallas Fort Worth. Founded in 2001, partners Michael Burns and Carita Weaver have a combined 30 years experience in developing and managing online marketing strategies for businesses in a broad range of industries. Our services, available individually or as a comprehensive program, include search engine optimization, Internet advertising, social media, email marketing, domain registration, and website design, maintenance and hosting. Creating an Internet presence requires an in-depth understanding of natural search engine optimization techniques and supporting Internet marketing programs. We work with all types of businesses and help them successfully navigate the Internet to bring new customers through the door — our motto is Be Found!