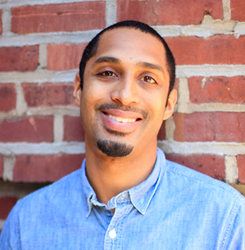 Philadelphia, PA (PRWEB) September 24, 2014
i76 Solutions, a digital marketing services and technology development firm based in Skippack, Pennsylvania, announced today the appointment of Napoleon Suarez as the Director of Search Marketing, effective immediately. In his new role, Mr. Suarez will lead and direct all aspects of i76s Search Engine Marketing and content development practice, including Search Engine Optimization (SEO) and Pay-per-click (PPC) search advertising.
According to Managing Director and Co-Founder James Huth, As a rapidly growing marketing and technology firm, i76 recognizes that there is huge opportunity to round-out our large on-line display and digital video planning and investing business. Search, Display, and Video are more and more interconnected across devices, and bringing on Napoleon allows us to provide our clients with a much more aligned and complimentary digital strategy.
Mr. Suarez will report directly to Drew Salamone, Co-Founder of i76 Solutions and Chief Digital Officer, who said, As we continue to expand and enrich our technology services within the agency, having Napoleon in place will allow us to provide an even deeper focus on the ever-changing world of search engine marketing. By strengthening our existing search marketing practice under Napoleons direction, we are looking forward to bringing an enhanced value to our existing clients and building new relationships and opportunities.
Mr. Suarez joins i76 Solutions from his own Consulting Practice, 16 Plates. Prior to 16 Plates, Mr. Suarez was the Director of Search Marketing at Stream Companies. Before that, he was an Associate at national search marketing firm SEER Interactive. I'm really excited to join the i76 team and continue to help them grow the search business. As companies focus more of their marketing resources to the digital space, it's essential to have a solid search strategy. With my past experience leading innovative search initiatives, I feel confident that, together, we can help our clients see a positive return on their digital marketing resources, said Mr. Suarez regarding his new role at i76 Solutions.
About i76 Solutions
i76 Solutions is a digital marketing agency, based in Philadelphia, serving customers around the world. Working with clients, i76 develops digital media and marketing strategies and implements them using technology. i76 Solutions is a Google Partner Agency and is certified in Google Ad Words and Google Search.