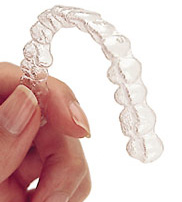 (PRWEB) February 25, 2013
One of the most powerful ways to succeed with online dental marketing is to optimize one or more dental websites for both local and dental care keywords. With so much competition for top spots in the search engine results pages (SERPs) for high value services such as dental braces, this can be a tough challenge one that busy dentists just don't have time for, and for which legitimate search engine optimization (SEO) companies charge deservedly high fees. The new dental websites (New Patient Portals) from Internet Dental Alliance, Inc. (IDA) solve all of those obstacles.
IDA's Portals are fast and easy to set up, designed by dental SEO professionals, automatically optimized for both local and dental service SEO — and the monthly investment is well below the cost of hiring a SEO firm. Doctors choose the focus for each of their Portals. In addition to braces and orthodontics, there are more than 25 other top consumer dental markets dentists can select.
As an example, one Portal is optimized for generating new leads for braces cases, and contains articles on topics such as the cost of braces; types of braces for adults; how lingual braces are different from traditional braces, etc. The practice can also publish individual Portals to attract leads for other types of dental care it provides perhaps cosmetic dentistry, children's dentistry, etc. Each Portal is automatically optimized to attract new leads 24/7 using IDA's proprietary content publishing system, and to convert them into new patients.
The best way to reach new patients online is to target your dental marketing with local and dental care keywords, says Jim Du Molin, founder of the Internet Dental Alliance and a former dental consultant with more than 25 years of industry experience. Its not just about getting more new dental patients. Its about getting more of the kinds of new patients that are a good fit with your dental practice.
For more details about IDA's New Patient Marketing Machine Portals, and how to set up a new online dental lead generation campaign in less than 10 minutes, visit http://InternetDentalAlliance.com/.
About Internet Dental Alliance, Inc.
IDA is North America's largest provider of websites for dentists and dental directories. Its cutting-edge lead generation system is based on organic geo-targeted local search strategy which is customized for each dental office. This technology automates search engine optimization, and makes it possible to generate new patient leads within minutes of setting up the system. Internet Dental Alliance provides dental practices with online dental marketing services such as dental practice websites, website design, find-a-dentist websites, and other dental practice management resources.