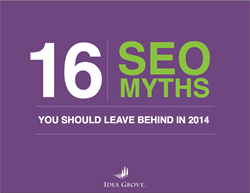 Dallas, Texas (PRWEB) November 29, 2014
Idea Grove, an integrated PR and marketing firm specializing in enterprise technology clients, recently published an eBook debunking the 16 most common SEO myths. In it, industry experts explain how outdated SEO tactics have evolved, and what you need to do to modernize your strategy.
SEO is no longer about exact match domains or achieving the perfect keyword density, said Scott Baradell, Idea Grove president and founder. Search engines have evolved to identify which sites offer the best experience for the end user, and if youre trying to trick them with outdated SEO practices, youre going to be penalized.
The problem many marketers face is building a strategy that can adapt to the constant changes in Googles algorithms. While theres no way to know for certain what trends will endure and what will be left behind, theres one aspect of your SEO strategy that should never change: producing quality content.
Google is tired of getting scammed by black-hat SEOs, and is issuing increasingly stiff penalties for websites that violate its rules, Baradell said. Instead of putting all of your energy into trying to get around the rules, focus on writing content that addresses your audiences needs in an engaging, informative way. Of course, youll need to stay up on changes in the SEO world, and this eBook is a great place to start.
Baradell is a frequent speaker on the practical integration of public relations, social media, and SEO. Earlier this month, Baradell spoke at DFWSEM's annual State of Search conference on the changing face of SEO, in a presentation titled, "The Shotgun Wedding of PR and SEO: Can This Marriage Be Saved?"
About Idea Grove
Idea Grove, a Dallas-based public relations and inbound marketing agency, helps enterprise technology companies reach media and buyers by combining proven PR strategies with a proprietary digital marketing system. The agency creates custom public relations and inbound marketing programs for its roster of national B2B technology clients, which range from Fortune 500 companies to high-growth, venture-backed startups. Idea Grove drives brand awareness, online engagement, and sales conversion by integrating public relations, social media, search marketing, content creation, web design, and conversion rate optimization in an efficient, scalable system.