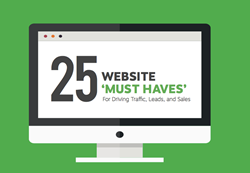 Dallas, Texas (PRWEB) November 30, 2014
Idea Grove, an integrated PR and marketing firm specializing in enterprise technology clients, recently published an eBook outlining the most important factors for website conversions. The 25 elements outlined in this free eBook range from SEO to design to content and more.
Your website is becoming an increasingly important tool to nurture prospects and leads, particularly in industries such as B2B technology, which tend to have longer buying cycles than their B2C counterparts, said Scott Baradell, Idea Grove president and founder. If youre not optimizing every aspect of your site, youre losing business.
One of the driving forces behind this need for a stronger online presence is the evolution of the buying process. Consumers now have access to a seemingly infinite number of resources, and they want to conduct research on their own before reaching out to speak directly with a company representative. Brands that dont stand out from their digital competitors wont be able to close as many conversions as those who understand the importance of website optimization.
Consumers dont want to be bombarded with pushy sales pitches when theyre researching a company; they want to control if and when they speak with a representative, Baradell said. If your website isnt designed with your customers needs in mind, which is the purpose of optimization, youre going to have a difficult time convincing leads that youre the best solution to their problem.
About Idea Grove
Idea Grove, a Dallas-based public relations and inbound marketing agency, helps enterprise technology companies reach media and buyers by combining proven PR strategies with a proprietary digital marketing system. The agency creates custom public relations and inbound marketing programs for its roster of national B2B technology clients, which range from Fortune 500 companies to high-growth, venture-backed startups. Idea Grove drives brand awareness, online engagement, and sales conversion by integrating public relations, social media, search marketing, content creation, web design, and conversion rate optimization in an efficient, scalable system.