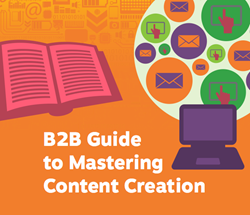 (PRWEB) January 30, 2015
Idea Grove, an integrated PR and marketing firm specializing in enterprise technology clients, recently published the B2B Guide to Content Creation. This free eBook outlines how B2B marketing and communications teams can build a more effective content strategy.
Everyone is producing content, whether its blog posts, eBooks, whitepapers, videos or infographics, said Scott Baradell, Idea Grove president and founder. Finding a way to make content stand out is one of the biggest challenges B2B companies face.
Having a strong content plan is about so much more than updating a blog. In order to build a strategy that is truly effective, you must streamline your preparation phase. This includes:

Brainstorming content ideas that align with marketing goals
Having productive conversations with thought leaders/subject matter experts
Focusing on people and stories, not products
Choosing the right content for the right message
Consumers are surrounded by content, and theyre not going to settle for something subpar, Baradell said. If youre not making the effort to produce informative, engaging content, youre losing customers.
About Idea Grove

Idea Grove, a Dallas-based public relations and inbound marketing agency, helps enterprise technology companies reach media and buyers by combining proven PR strategies with a proprietary digital marketing system. The agency creates custom public relations and inbound marketing programs for its roster of national B2B technology clients, which range from Fortune 500 companies to high-growth, venture-backed startups. Idea Grove drives brand awareness, online engagement, and sales conversion by integrating public relations, social media, search marketing, content creation, web design, and conversion rate optimization in an efficient, scalable system.