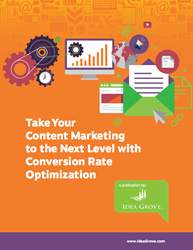 Dallas (PRWEB) December 31, 2014
Idea Grove, an integrated PR and marketing firm specializing in enterprise technology clients, recently published Take Your Content Marketing to the Next Level with Conversion Rate Optimization. This free eBook has information about the elements of an effective CRO strategy as well as best practices and a step-by-step guide to building and executing a winning strategy.
Marketers fully understand the necessity of producing engaging content that interests their audiences, but that cant be the only element in their strategies, said Scott Baradell, Idea Grove president and founder. They've got to improve the experience theyre providing their audience, whether thats on social media, their website or mobile. CRO helps do that by gathering data from users to help you better understand them.
CRO can be especially helpful for B2B technology companies that depend on data to get decisions made. With a conversion strategy in place, marketers can measure the success of every element of their campaigns in ways that were never possible before. Even better, marketers can use their CRO results to build stronger campaigns in the future.
Increasingly, PR and marketing departments are expected to show the results of their efforts in hard numbers, Baradell said. That can be difficult without a CRO strategy that incorporates tactics such as SEO, A/B testing and marketing automation, all of which do a great job showing whats working and whats not. Once you know this, youll be able to build more targeted campaigns that produce higher conversion rates.
About Idea Grove

Idea Grove, a Dallas-based public relations and inbound marketing agency, helps enterprise technology companies reach media and buyers by combining proven PR strategies with a proprietary digital marketing system. The agency creates custom public relations and inbound marketing programs for its roster of national B2B technology clients, which range from Fortune 500 companies to high-growth, venture-backed startups. Idea Grove drives brand awareness, online engagement, and sales conversion by integrating public relations, social media, search marketing, content creation, web design, and conversion rate optimization in an efficient, scalable system.