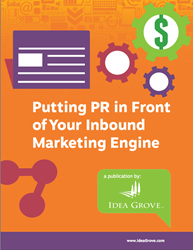 DALLAS (PRWEB) December 31, 2014
Idea Grove, an integrated PR and marketing firm specializing in enterprise technology clients, recently published Putting PR in Front of Your Inbound Marketing Engine. This free eBook dispels some of the myths surrounding the PR industry and points out that many modern marketing strategies employ tried-and-true PR practices.
Theres been a lot of talk about the death of PR, especially among marketing automation software companies, said Scott Baradell, Idea Grove president and founder. What those would-be grim reapers dont realize is that the tools theyve created have been significantly influenced by PR tactics that have been around for decades.
The digital age has had a massive impact on the PR field. That being said, there are several PR tactics that have popped up in marketers portfolios with new names, including newsjacking, thought leadership and site outreach. No matter what theyre called, however, they are excellent ways to build brand awareness and establish thought leadership.
PR isnt dying, its simply going through some changes, Baradell said. In many cases, brands have found that combining new marketing trends such as automation and conversion rate optimization with PRs knack for storytelling is the perfect formula for an effective strategy.
About Idea Grove

Idea Grove, a Dallas-based public relations and inbound marketing agency, helps enterprise technology companies reach media and buyers by combining proven PR strategies with a proprietary digital marketing system. The agency creates custom public relations and inbound marketing programs for its roster of national B2B technology clients, which range from Fortune 500 companies to high-growth, venture-backed startups. Idea Grove drives brand awareness, online engagement, and sales conversion by integrating public relations, social media, search marketing, content creation, web design, and conversion rate optimization in an efficient, scalable system.