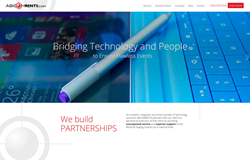 (PRWEB) March 12, 2015
Abcomrents, a leader in unique and innovative technology for the event rental industry, recently ramped up their brand image with a new website. Working with Idea Marketing Group, a Chicago based marketing agency, Abcomrents integrated their product inventory with a web-friendly, SEO strong website built on WordPress.
As the leading provider of event production technology solutions, Abcomrents excels at creating partnerships with clients to help them reach their event goals. They strategize, design and implement full-service event productions with innovative technology solutions, state-of-the-art rental equipment, and all the supporting infrastructure. Their unparalleled service allows them to produce flawless, technology-rich events, while their clients can focus on the event management.
They needed a website with user-friendly navigation with the ability to update simply. The new website was built with these goals in mind on the WordPress platform. The site was optimized for search and integrated with strong SEO components. The website also addressed the need to showcase their wide range of products available for rent. Each product has its own dedicated specs page so that users can be sure they are renting the exact equipment they need to fulfill their needs. A Quick Quote Request feature allows users to quickly enter their contact information, location, and rental period, along with the items theyre interested in, and receive a very timely quote. The final result is a website that took a large amount of content and made it easily accessible with a user-friendly menu and search feature that give visitors the information they need quickly and efficiently.
Working with Idea Marketing was an incredible experience. Their thorough process was in line with our teams, and our vision of the new site was transferred to their development team as well as content writing team. says Sonny Goyle, Managing Director. We are extremely happy with the new design as it really sets us apart from our competition.
Check out the new Abcomrents website here.
Idea Marketing Group is a web design and marketing firm with offices near Chicago, IL. Since 2009, Idea strives to provide creative, unique and cutting-edge websites and individualized goal-driven marketing. Clients choose Idea Marketing for award winning web design and marketing services from an experienced and passionate web team that helps grow businesses. To learn more about ABCOMRENTS or Idea, visit http://www.ideamktg.com or call 312.834.7001.