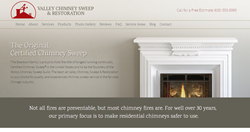 Yorkville, IL (PRWEB) April 22, 2015
Valley Chimney Sweep & Restoration of Yorkville, IL has launched a new responsive website. Already established as an Idea Marketing Group client, Valley Chimney recognized the need to overhaul their older website and asked Idea to take on the project.
Valley Chimney Sweep provides expert chimney sweeping, fireplace cleaning, chimney restoration and chimney repair services to residential and commercial outlets throughout the western Chicago suburbs. A locally owned and operated family business since 1978, Valley Chimney has provided fireplace and chimney services to over 24,000 homes and businesses in the western Chicago suburbs. Founders of the Illinois Chimney Sweep Guild and leaders in the chimney safety field, Valley Chimney are expert chimney sweeps. Terry Dearborn holds the longest running chimney sweep certification in the US and his son, Derek Dearborn runs the company now, making it a second generation family business.
Idea Marketing Group built the new website on the WordPress platform and optimized for search. The site allows Valley Chimney Services to update the site from an easy to use WordPress content management system and includes new extended content about each of the services that they provide. A blog allows the Valley Chimney team to educate the public about fire safety and chimney information. The site incorporates current SEO techniques to help them be found in search by potential customers.
"Working with the team at Idea Marketing Group has been great," said Derek Dearborn, owner of Valley Chimney. "They take our expertise and showcase us to the people that need our services. Our new website really helps people understand what we do and choose us based on our knowledge, reviews, and insight into the field."

Check out Valley Chimney Services on their new chimney sweep services website.
Idea Marketing Group, located just west of Chicago, offers web design, web development, and marketing services to clients nationwide. With additional specialties in branding, graphic design and marketing services. Idea draws from experienced, in-house talent paired with unmatched customer service at award-winning levels. For more information, contact this Chicago marketing agency at 312.834.7001 or http://www.ideamktg.com