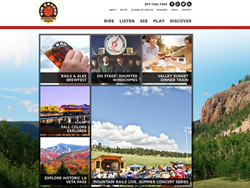 Alamosa, IL (PRWEB) April 29, 2015
The Rio Grande Scenic Railroad has launched their new travel website as a means to market and sell their exciting train trips through Colorado's La Veta Pass, the highest and longest standard gauge route in the US. They hired Idea Marketing Group to redesign and develop a new mobile-friendly online user experience for those seeking to buy tickets as well as those researching trips on the Rio Grande Scenic Railroad.
The Rio Grande Scenic Railroad travels along the La Veta Pass in south central Colorado. Built in 1878, the train depot created and grew the town of Alamosa as an Old West hub for passengers and freight until it became a freight only route during the 1950s. In 2006, the Rio Grande Scenic Railroad was reopened to passenger traffic and now offers day trips, dinner trips, seasonal themed trips and mountaintop concert excursions. With sold out concerts at Fir Summit Amphitheater, a mountaintop concert venue accessible only by rail, cross-selling their other offerings was a goal for the new website.
Idea launched ColoradoTrain.com as the first website on Premier Rails newly designed and developed WordPress Multisite configuration. This network of multiple sites that all run on a single installation of WordPress allows Premier Rail to manage all of the Premier Rail Collection websites on one individual login and utilizing the same custom template design, creating a consistent branding, look and user experience across each railway. On the Rio Grande Scenic Railroad website, web visitors can easily see and choose between available trips and then buy tickets through the integrated Fulgen ticketing system with ease and efficiency. The new, mobile-friendly Colorado train website is accessible on any device, features better navigation, easier to purchase functionality, stronger SEO and an overall better web presence.
"The first of our new websites looks and functions great. We are pleased to have found a partner like Idea to work with us on this upgrade to our online presence," says Sarah Munley, Director of Marketing.
Check out Rio Grande Scenic Railroads new Colorado train website.
Idea Marketing Group, located just west of Chicago, offers web design, web development, and marketing services to clients nationwide. With additional specialties in branding, graphic design and marketing services. Idea draws from experienced, in-house talent paired with unmatched customer service at award-winning levels.