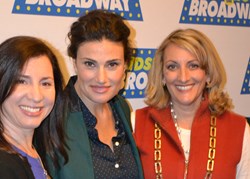 New York, NY (PRWEB) January 25, 2014
Idina Menzel was on hand at Sardi's to help launch special programs for Kids' Night on Broadway 2014, including the Broadway's Biggest Fan Contest. This year, as part of The Broadway League's Kids Night on Broadway, kids 6-18 will be invited to create and submit original videos in the Broadway's Biggest Fan Contest. Kids can leave videos on any of three suggested Broadway topics, or can leave a review of a Broadway Show.
Topics include:

What book or movie would you like to see made into a Broadway Show and Why?
What was your first Broadway experience and what did it mean to you?
What do you like about going to live theater?
Submitted videos will be entered for a chance win all kinds of Broadway prizes, including two grand prizes: a family four pack of tickets to a participating Kids' Night on Broadway show. Other prizes include Broadway Souvenir prize packs, and tickets to Madame Tussauds Wax Museum.
Running from Monday, February 24, 2014 to Sunday, March 2, 2014, Kids' Night on Broadway is an audience development program created by The Broadway League to make theatre accessible, encourage theatre as a form of family entertainment, and build larger audiences for the future.
The program allows kids ages 6 to 18 to see Broadway shows for free when accompanied by a full-paying adult. Plus, a Kids' Night on Broadway ticket includes restaurant discounts, parking discounts, educational programs, and special events including: KidzVuz Broadway's Biggest Fan video contest, Schmackarys Official Cookie of Kids Night on Broadway casting, Madam Tussaud's New York all-access pass for kids, and Google+ hangouts with Broadway casts.
"KidzVuz is a safe place where kids can express themselves," said KidzVuz co-founder, Nancy Friedman, "And since theatre is all about self expression, Kids' Night on Broadway is a perfect partner for us. We're thrilled to be helping The Broadway League encourage kids and families to see live theatre around the country through the Broadway's Biggest Fan Contest."
KIDS NIGHT ON BROADWAY