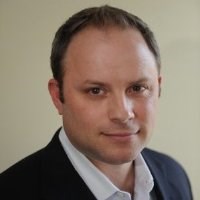 LONDON (PRWEB) February 20, 2014
Following its Series A funding of $ 2.35MM, UK-based marketing technology firm idio, Ltd. announces the launch of idio Inc. to address the growing North American market for content marketing software.
Extending from its corporate headquarters in London, the companys North American operations will be based out of Chicago with additional offices in New York.
Damon Ragusa, a seasoned entrepreneur and start-up executive focused on the analytics and software industries, has been tapped to head up the North American expansion as President of idio, Inc. and member of the parent companys board of directors. Prior to idio, Ragusa founded ThinkVine, a growth-stage software company recognized as a leader in the marketing mix optimization industry. Ragusa will be growing the North American team around sales and marketing, customer success, and implementation services.
idio solves both a very important strategic goal of gaining a better understanding of the interests of a brands customers and prospect, while also being able to improve the overall execution of marketing through creating a more personalized experience. That is a rare and valuable combination, says Ragusa. Our company is as much about the automation of content marketing as it is about gathering intelligence through how people use it. In a marketplace where many companies are content rich but relevance poor, we believe companies can better utilize their content, to keep more customers engaged through the purchase funnel to the point of conversion, while learning more about each customer in the process. idios platform maximizes the relevance of each interaction and collects valuable insight about the brand or publishers audience on an individual basis.
With all the activity and investment in the Content Marketing space, now is the perfect time for the North American market to take a new look at its content marketing practices and we know our approach of Content Intelligence and automation will resonate there. Leading this charge, Damon brings a wealth of experience in growing a software-as-a-service company and in his understanding of the top priorities of CMOs. We feel confident that idio is well-positioned to capitalize on the huge opportunities available in this rapidly evolving marketplace, said Edward Barrow, Founder and CEO of idio.
About idio

Idios technology delivers significant business value from Content Marketing. idio's Content Intelligence platform combines real-time analytics and content recommendation to enable you to understand your customers and prospects individual interests based on the content they consume and uses this insight to deliver personalized, cross-channel content experiences; all fully automated and fully integrated within your existing digital marketing tools. See http://www.idioplatform.com for more information