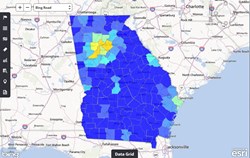 Des Moines, Iowa (PRWEB) October 17, 2013
iEmergent, a leading mortgage data forecasting firm in Des Moines, Iowa, will release its new Mortgage MarketSmart product at the Mortgage Bankers Associations 100th Annual Convention & Expo.
This innovative software application allows banking and lending executives, market managers, data analysts and loan originators practical access to national and market-level mortgage forecasts and analytics. The applications comprehensive mortgage market intelligence includes iEmergents CBSA, county and census tract mortgage forecasts, as well as Home Mortgage Disclosure Act (HDMA) historical data. Basic analytics are available to all users, and segmented data is available by loan type, race/ethnicity, income level, loan size, and more.
Local community, housing, and mortgage finance markets have undergone great change over the past 10 years, said Dennis Hedlund, founder of iEmergent and Mortgage MarketSmart. Mortgage lending success and sustainabilitywhether Internet, traditional retail, bank-driven, third party or consumer-directwill hinge on being able to anticipate and prepare for future housing, homeownership and home financing behaviors that have been shifting dramatically.
Harnessing the combined predictive power of detailed data, household buying behaviors, and past and future locational patterns has transformed economies and the way of the world, Hedlund continued. The Mortgage MarketSmart platform was designed to provide a single solution for market intelligence that forward-looking mortgage lenders need to successfully compete in the new world.
This new product takes the mortgage data and accurate forecasts that iEmergent has been providing since 2001 to the next level with access and usability. Mortgage MarketSmart helps professionals at any level of any sized institution use data and analytics to make decisions that impact performance. From branch placement and sales resource allocation to creating strategies for growth, Mortgage MarketSmart makes it simple for managers to increase originations, improve efficiency, build better networks of referral sources and manage more effectively.
Mortgage MarketSmart is a Web-based application that uses the ArcGIS mapping platform to display complex sets of mortgage data in easy-to-interpret maps, said Chris Rouw, partner at Far Reach, the software development company behind the application. The cloud-hosted technology is accessible any time, any where theres a browser and an Internet connection.
iEmergent will be doing demos of Mortgage MarketSmart at booth 652 during exhibit hours. Attendees can learn about Mortgage MarketSmarts capabilities and data, sign up for free trials and access special conference pricing.
Mortgage MarketSmart is a web-based software solution that brings forward-looking market intelligence to lenders and helps them use it. To learn more about the application, visit http://www.MortgageMarketSmart.com.
iEmergent provides critical market development intelligence and advisory support to professionals in the mortgage banking, housing and real estate industries. Learn more at http://www.iemergent.com.
Far Reach is a technology firm specializing in software development, website design and development, mobile development and Internet marketing. Learn more at http://www.farreachinc.com.