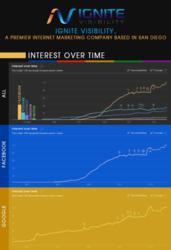 San Diego, CA (PRWEB) February 12, 2013
Ignite Visibility, a premier Internet marketing company focusing on SEO, social media, online reputation management, PPC and CRO, has released a 2013 growth forecast for consumer interest in Facebook, YouTube, Google, LinkedIn and Twitter. The report, available in text and infographic format, shows this and other critical information for social media marketers and others interested in the future of the websites.
This report shows the search interest for each site over time, dating back to as early as 2005. We see the explosion of Facebook in 2009 while the other big four social sites saw more steady growth. Perhaps most interesting though is the 2013 forecast. In each case we are seeing at least some growth. While there are a few surprises, it is fairly clear that these sites will continue to accumulate exponential consumer interest this year, said an Ignite Visibility representative.
Facebook wins the consumer interest battle with a score well near 100 when compared to the other sites. 100 is the highest metric on the Google trends search report. YouTube, Google, LinkedIn and Twitter have all seen less than half the interest of Facebook. The forecast shows that this trend will continue allowing Facebook to remain by far the most sought-after social media site online.
Outside of forecasted growth, the study shows the interest for each social site by region. This data can be seen based on the darker areas in the infographic. Furthermore, it also shows the top related terms for each site.
We have gathered this information to provide Internet marketers with a historical perspective as well as a forecast that will assist with decision making. Social media marketers need to know how these communities will change over time and can then invest marketing dollars accordingly. This study shows strong growth for each of these sites. We encourage marketers to share and cite this data. We are allowing this image to be utilized on other websites, we just ask that you reference Ignite Visibility.
Read the Social Media Site Interest Forecast & Report 2013
Ignite Visibility has a vision to be the most innovative, effective and honest Internet marketing company in the world. With a low client to project manager ratio, Ignite Visibility provides high-touch expertise to each client to ensure maximum results. Learn more about Ignite Visibility and their completely customized and advanced Internet marketing strategies.