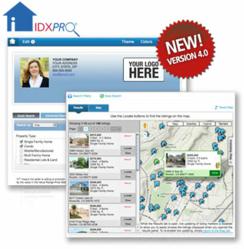 Oakland, CA (PRWEB) May 23, 2011
iHOUSEweb, Inc is pleased to announce the release of the newest version of IDXPro Search Solution. Version 4.0 is all about integrating IDX search everywhere and includes new features like Color Matching, Magic Resize, Quick Search Widgets, a WordPress Plugin and more. IDXPro is also one of the only SmartPhone compatible IDX pages on the market.
The IDXPro WordPress Plugin and Quick Search widget make it possible for Real Estate Agents and Web Designers alike to quickly add IDX MLS Search to any website without any additional programming or complex integration. With our copy and paste embed code it's possible to add IDX search on any website.
Most of the new IDXPro 4.0 changes are based on suggestions from customers, cementing a dedication to customer service and satisfaction throughout all of the products iHOUSEweb, Inc offers. Also, IDXPro 4.0 is available for over 390 different MLS's, making it one of the most widely available IDX Search solutions in the country.
Since 1986, iHOUSEweb, Inc has provided real estate professionals with Internet tools to build their businesses. Through continued, successful designs of user-friendly real estate agent websites and other products for real estate web site promotion, the company has built a network of more than 30,000 customers, and maintains IDX data feeds with over 390 MLSs nationwide, representing nearly two-thirds of all listings in the U.S. Its web marketing solutions include iHOUSE Elite Websites, IDXPro