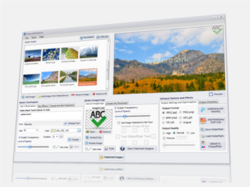 (PRWEB) September 22, 2012
Mass Watermark Software today announced the launch of their new Software Mass Watermark, a Batch Image Processing software. The software is intended for Photographers, Bloggers,Designers and all those who publish/share their Digital Photographs Online.The Main Function of the software it to easily overlay Text/Image Watermarks on Images so that Photos are Protected at all times.

The software is Available for Free Download from their Website http://www.masswatermark.com
Mass Watermark is a new Generation Image Watermarking software, which is automated and powerful. It can process 100s of images with few clicks and within minutes.

It can overlay great looking text/image watermarks on photos easily.
The software boasts of its intelligent watermark placement technique which ensures that the watermark will be placed the desired location when processing Images of varying sizes. It also has many inbuilt watermark placement positions that allows easy positioning of the watermark.
The Most stunning feature noticeable its ability to optimize photos. Mass Watermark has an inbuilt Image Optimizing tool which can apply effects sharpen,blur.smoothen,Mean Removal and RGB Color Adjustment to the images before watermarking is done. This is a great feature.
Also the Batch Resizing feature allows resizing of all the processed photos to a specific size, so that its easily sharable on webpages. And all these processes are done in an automated way, which makes the process super easy.
Speaking about sharing, Mass Watermark has direct connectivity to Picasa/Flickr so sharing the watermarked photos directly to Picasa/Flickr web albums is much easier.
Additionally Mass Watermark has much more features like Adding EXIF Info in Batch Mode to watermarked Images, Variety of Text Watermark Styles, Line Watermarking for added protection, Creation of Compressed folder containing the Images.
The software can be freely downloaded from http://www.masswatermark.com, it does not have a fixed time limited demo. The only restriction is that the logo will be placed on all processed images.

The software is Prices at $ 30 and has a single licensing scheme-Single PC.

It can be purchased online from http://www.masswatermark.com/order.htm
Mass Watermark is Member of Microsoft Startup Program-Bizspark and the software has won the editors pick award from popular websites like Brothersoft,Freedownload Center and Numerous others.