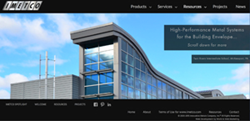 Norcross, GA (PRWEB) April 28, 2015
IMETCO (Innovative Metals Company, Inc.) recently redesigned its website, improving navigation and functionality throughout and creating a more user-friendly interface so customers can quickly and easily access technical product information and architectural details.
The sleek new design features a scrolling homepage with links to specifications and details, warranty and product literature requests as well as a growing library of project photos illustrating IMETCOs wide range of capabilities as a building envelope solutions provider. There is also a navigation bar across the top of the website with links detailing IMETCOs expansive line of products, services and additional resources.
During the design process, we were determined to come up with a layout that highlights the beauty and versatility of metal. Additionally, we improved the functionality of the site so that we can continuously evolve this marketing tool moving forward, explained Josh Younger, marketing specialist at IMETCO.
IMETCO is a leading manufacturer of premier metal products for the building envelope, delivering performance-inspired systems tailored to every project. IMETCO offers a full range of high-performance metal roofing, metal wall, and metal edge systems and accessories that provide a virtually limitless realm of aesthetic possibilities. Additionally, IMETCO provides high-quality custom metal solutions for designers whose visions extend beyond our standard product offering. IMETCO is also the exclusive supplier of United Zinc, the only architectural zinc manufactured domestically. With specialty manufacturing capabilities, including curving, tapering, perforating and field forming, IMETCO continually distinguishes itself as a leader in the metal construction industry. Driven by a collective desire to provide exceptional service at every opportunity, IMETCO pledges to communicate, promise and deliver innovative solutions, dedicated support, professional engineering services, and products manufactured to the highest quality standards. IMETCO is headquartered in Norcross, Georgia.
For more information, visit http://www.imetco.com or call 800.646.3826.