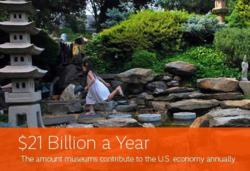 Austin, TX (PRWEB) February 19, 2013
Immediatag, LLC, a software and consulting services startup based in Austin, Texas, is pleased to announce the company's decision to join museum and industry colleagues in Washington, DC for Museum Advocacy Day 2013 (February 25-26). As a for-profit small business, Immediatag's primary advocacy goal is to ensure members of Congress appreciate the important role museums and other cultural institutions play in promoting healthy local economies.
Now in its fifth year, Museum Advocacy Day is a unique opportunity to engage members of Congress on pressing issues affecting the 21,000 museums in the United States. This year's event, organized by The American Alliance of Museums (AAM), comes at a time when both Congress and the Obama Administration are considering changes to tax and funding policies that may adversely affect museums and the communities they serve.
"We're most concerned about a proposed cut in the tax deduction for charitable contributions," explains CEO Joseph Pagano, who will be representing Immediatag during Museum Advocacy Day. "Given that museums depend on charitable gifts for more than one-third of their operating funds, we believe any regulatory change that discourages generous Americans from supporting their local cultural institutions should be avoided."
As the manager of a locally-owned small business, Pagano's goal for Museum Advocacy Day is to remind members of Congress that, on top of all the other contributions they make to American society, particularly in the area of education, museums also generate a tremendous amount of economic activity for their host communities.
"We're talking about an industry that supports $ 21 billion in annual economic activity, employs 400,000 people, and spends $ 2 billion annually on teacher training and educationall while consuming services provided by small, local businesses like Immediatag," explains Pagano, citing information provided by AAM, the U.S. Conference of Mayors, and others.
"So while I certainly appreciate the need for belt tightening on the part of museumsand all American institutions and citizens for that matterit's important that members of Congress fully appreciate just how important a thriving cultural community is to a healthy local economy before changing how museums are funded."
ABOUT MUSEUM ADVOCACY DAY

For more information about Museum Advocacy Day and opportunities to show your support for museums year-round, please visit the Advocacy section of the American Alliance of Museums website.
ABOUT IMMEDIATAG

Immediatag, LLC is a software and consulting services startup based in Austin, Texas. We help cultural institutions use mobile technology to engage and educate visitors of all ages and backgrounds.
For more information about Immediatag, please visit http://immediatag.com. You can also view additional information about our participation in Museum Advocacy Day and activities surrounding it.