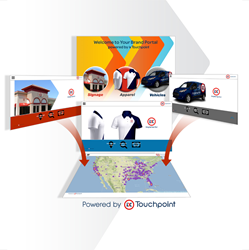 Denver, CO (PRWEB) May 19, 2015
Implementix, a nationwide rebranding company, announces the release of its new ix Touchpoint technology, helping top brands manage brand compliance on touchpoints, including signage and fleet vehicles.
Working with some of the nations top brands, we discovered the lack of detailed databases for rebranding projects and brand compliance. We created a comprehensive brand management software platform that allows brand marketers to store and analyze data, said Scott McLean, CEO of Implementix.
As with other types of big data, brand marketers need the ability to review and analyze brand touchpoint information. The new ix Touchpoint system has heat map capabilities, showing brand marketers where branded assets are located around the country. The system can drill down to the individual touchpoint level, showing photos of actual signage at a retail location or service vehicles in the field.
A brand change is the perfect opportunity for brand marketers to create a comprehensive brand management system using the entire ix Technology Solutions suite. Whether the brand change is needed for a merger, acquisition, or rebranding, a systematic analysis of all brand touchpoints is required to complete the brand implementation process. After completing an assessment of marketing materials, digital marketing assets, websites, promotional items, signs, vehicles, business forms, corporate apparel and other branded assets, top brands often have hundreds of thousands of brand touchpoints to maintain. The proper technology is required to keep the brand identity on each touchpoint in compliance and rebranding costs low.
ix Technology Solutions power each stage of the ix Brand Implementation Management process.

The ix Assessment mobile app collects data and photos of signage, vehicles and other branded assets. The detailed data collected about each touchpoint during the Assessment automatically updates throughout the system, which accelerates the next steps in the process.
The ix Engineering app creates scenarios and allows Implementix to develop the most efficient and cost-effective solutions for a brand rollout.
The cloud-based ix Conversion technology manages the conversion of each individual touchpoint and ensures a brand rollout stays on track.
The comprehensive ix Automation portal is perfect for ordering brand-compliant signs, vehicle graphics and uniforms as needed for new buildings, vehicle repairs, or employee growth after the brand implementation project is completed.
The new ix Touchpoint brand portal allows brand managers to monitor touchpoints, manage brand compliance, create targeted marketing campaigns, address competitive threats and develop realistic branding budgets.
About Implementix

Implementix is a nationwide rebranding company that streamlines complex brand implementation projects to help corporations complete brand rollouts on time and on budget. Whether launching a new brand or rebranding after a merger or acquisition, Implementix provides project management services, ensuring the new brand identity looks professional in the marketplace. The Denver-based company works with national, regional and local companies in industries such as hospitality, telecommunications and cable/satellite, healthcare, financial services, food and beverage, and energy. To learn more about Implementix, visit http://www.implement-ix.com.