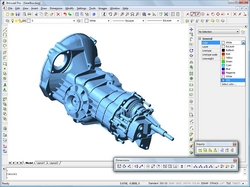 Gent, Belgium (PRWEB) October 2, 2009
Bricsys – the developer of Bricscad V9, the best CAD DWG alternative – today announced that early pre-release builds of OpenDCL 6.0 now support Bricscad V9 Pro. OpenDCL is a very popular Open Source software for programmers who want to replace the limited DCL user interface in AutoCAD and Bricscad with a rich set of modern Windows user interface elements.
OpenDCL leverages the flexibility and portability of AutoLISP in AutoCAD and LISP in Bricscad. OpenDCL is designed to replace the native DCL dialog control language with an event driven programming model that is much more powerful than native DCL. The software is available in English, German, Spanish, French and Chinese (simplified).
Owen Wengerd – the main developer of OpenDCL – comments: "Development of OpenDCL is driven by its users, and there has been a growing chorus of requests for Bricscad support. I'm impressed with the degree of compatibility Bricsys has been able to achieve with the AutoCAD API's."
"Bricsys continues to extend its support for all main API's used by the DWG community" adds Erik De Keyser, CEO of Bricsys. "After some inquiry we learned that 50% of all customizations and applications are using LISP and many of them are committed to OpenDCL. We owe a lot of credit to Owen Wengerd, who we consider as one of the most respected DWG experts in the CAD industry."
About OpenDCL

OpenDCL is an open source project managed by the OpenDCL Consortiumand licensed under the GPL opensource license model. The OpenDCL website contains download links and information about the software.
About Bricsys

Bricsys is a global provider of engineering software through its network of 70 offices on four continents. The product portfolio consists of Bricscad and Vondle (an extended SaaS platform). Bricscad is the powerful DWG-alternative CAD platform that enables DWG-based applications to serve the growing markets of GIS, AEC, mechanical CAD, and civil engineering. Bricsys products are available in 14 languages, with more languages in development.
Wherever they are on the globe, customers can communicate support requests directly to the Bricsys support team around the clock. Every month, Bricsys transparently reports to its customers on the status and development of its software products. Bricsys is a founding member of the Open Design Alliance, thereby contributing to the interoperability in the engineering industry.
For more information about Bricsys, visit the Bricsys website.
###