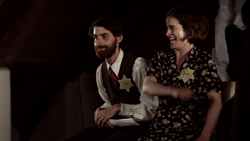 Los Angeles, CA (PRWEB) February 17, 2015
Power Story Ent., Inc. has recently released Making Light in Terezin which tells the true story shows how Jewish prisoners in the Terezin Ghetto in the Czech Republic managed to survive during WWII with the help of song, dance, theater and comedy. This poignant and moving documentary follows a modern day theater troupe as they journey to the Czech Republic to do a comedic cabaret piece for the first time in 70 years in the very same attic venue it was first performed in during WWII.
Making Light in Terezin, titled for the double entendre of making light through laughter and arts in the darkness of prison and making light through humor, is an 87-minute documentary. It includes interviews with several Holocaust survivors who reflect upon their imprisonment in Terezin Ghetto outside of Prague.
According to Krevolin, one of the most inspiring moments in Making Light in Terezin occurred during his interview with Holocaust survivor Pavel Str