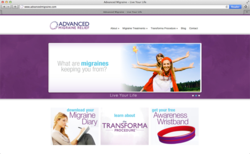 Houston, Texas (PRWEB) May 08, 2013
Inbound marketing agency, Adhere Creative, is pleased to announce the launch of a new website for Advanced Migraine Relief. The new website, completely re-strategized by Adhere Creative, includes all new copy, CTAs, page structure, URL structure, lead generation strategy and SEO optimization.
Built on the WordPress platform, the Advanced Migraine landing pages, blog and CTAs are all fully integrated with Hubspot, an all-in-one marketing software solution. This tool allows Advanced Migraine to take full advantage of more thorough analytics, advanced lead tracking and workflow automation efforts.
We strived to create a meaningful connection between Advanced Migraine and the 36 million migraine sufferers in the United States, explained Nathan Yerian, Director of Strategy at Adhere Creative. We achieved this by creating downloadable resources for chronic migraine sufferers and by facilitating an increase in chronic migraine awareness with a free awareness wristband offer."
Adhere Creatives efforts have shown an immediate and significant increase in both SERP rankings and leads generated for Advanced Migraine. In the first week of the sites launch, over 370 leads were generated, unique visitors to the website are up 64 percent and the websites conversion rate has grown by 992 percent. Month-over-month, lead generation between March 2013 and April 2013 increased 1,550 percent.
Greg Lewis, President of Advanced Migraine stated, "Adhere Creative did a tremendous job using inbound marketing strategies that attract chronic migraine sufferers to our site. Once there, visitors can find several value based offerings to help spread chronic migraine awareness and learn about alternative migraine treatments, including our own Transforma Procedure."
Adhere Creative is an inbound marketing agency based in Houston that designs comprehensive marketing solutions. They specialize in creating strategies that attract target markets, generate leads, and close sales. More information can be found on their website at http://www.adherecreative.com. For more information on Advanced Migraine Relief please visit http://www.advancedmigraine.com.