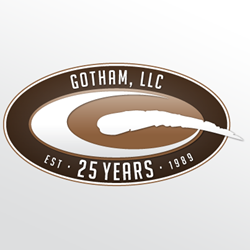 Hickory, NC (PRWEB) March 27, 2014
Gotham LLC, an industrial marketing firm based in Hickory, NC, has unveiled a new website highlighting the companys experience marketing industrial clients.
In our 25 years in business, Gotham and its sister companies have provided comprehensive marketing for a broad spectrum of clients, said president Woody Stoudemire. The recent resurgence of manufacturing in the USA is exciting. Many industrial clients have turned to Gotham for help in stimulating sales in their existing markets while also making inroads into new ones."
Successful marketing requires innovative thinking, he continued. From the escalation of the Internet through recessions and growing competition, Gotham has grown and prospered. Our success is a result of our clients success.
Now more than ever, the Web makes it possible for mid-sized manufacturing companies to compete in expensive branding wars. Through the use of niche products and highly targeted messaging, companies of any size can capture market share not just regionally, but globally. This new normal is apparent on Gothams updated website featuring the companys growing base of clients in the marine, machinery, woodworking, automotive, utilities, textiles and green industries.
Visitors to Gothams new website, http://www.GothamStrategic.com, can see an extensive online portfolio of integrated, multi-channel marketing campaigns. The campaigns are based in traditional outbound advertising such as print ads, identity packages and trade show booths, as well as inbound marketing services including website design, SEO and social media marketing.
Additional information about Gotham is available by calling 828.327.8099, extension 800. Information about its two sister companies are available at http://www.X-FactorMarketing.com, 828.322.2690, or at http://www.MarketingGhost.com, 828.244.6552.