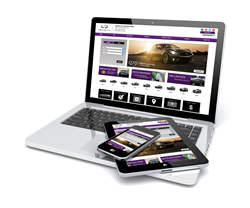 Orland Park, IL (PRWEB) March 26, 2015
Orland Park Nissan and Infiniti of Orland Park of Orland Park, IL are proud to announce the launch of two new dealership websites; including orlandparknissan.com and infinitioforlandpark.com. The launch of these sites will provide auto shoppers with the information they need in a very easy to navigate website. The sites provide users with large photos and images of each vehicle in stock, and easy to find buttons that are designed to make the site less cluttered and more useable for the shopper.
The two websites were designed by Automotive Internet Media and are optimized for responsive and flexible compatibility on all devices, including mobile smart phones, tablets, and desktop computers. Orland Park Nissan and Infiniti of Orland Park know a high number of consumers rely heavily on mobile devices when researching potential vehicle purchases.
We want to ensure we can reach our customers wherever they are, and these new mobile friendly sites are sure to provide our customers with an enhanced shopping experience. Were all about doing everything we can to make buying a car as simple and easy as possible, said Chuck Piano, President of Orland Park Nissan and Infiniti of Orland Park.
Automotive Internet Media designs websites to provide a great user experience while also increasing the conversion of leads submitted and calls to the dealership. The sites are built to incorporate content marketing that is well integrated with social media channels such as Facebook, Twitter, Google+ and more. Automotive Internet Medias website development process incorporates four critical components – fresh design, SEO, marketing, and social media – that all work seamlessly together.
We base our website design on a few basic rules to ensure the customer is provided the best shopping experience possible. Our first rule is to deliver a simple yet effective site. We provide a clear navigation, clean lines, and a layout that makes it easy for shoppers to find the information they are looking for, said Tony French, President of Automotive Internet Media. Our main goal is to help our dealers sell more cars by showcasing their inventory in the best way possible. Our sites do that by focusing on three key elements: great design, high conversion, and ongoing search engine optimization.
About Orland Park Nissan
Orland Park Nissan, located at 8550 W. 159th St. in Orland Park, IL takes pride in being a family-owned business, and has served the Orland Park and Chicago area for over 25 years. The dealership helps auto shoppers from Orland Park, Matteson, Naperville, Downers Grove, Joliet, and Plainfield find the right Nissan at the right price. As a premier Illinois Nissan dealer, Orland Park Nissan has a large selection of new and used Nissan cars, trucks and SUVs, as well as a great offering of special vehicle incentives and competitive lease and financing deals. Orland Park Nissan also offers superior service and certified Nissan parts and accessories. If your vehicle needs maintenance you can trust Orland Park Nissan to get you back on the road as quickly as possible.
For additional information visit http://www.orlandparknissan.com.
About Infiniti of Orland Park
Infiniti of Orland Park located at 8500 W. 159th St. in Orland Park, IL takes driving seriously. A Chicago Infiniti dealer has to be well-rounded and offer a wide range of services for the Windy City residents who are always on the go. Infiniti of Orland Park has served the Orland Park area for 25 years and has an experienced staff to assist customers from Orland Park, Tinley Park, Lisle, Hoffman Estates, Glencoe, Libertyville, Barrington, and all throughout Chicagoland. Auto shoppers are encouraged to stop in for a tour of the dealership to meet our team members, view our newly renovated showroom, and find out about the latest Infiniti models. Infiniti of Orland Park offers a diverse inventory of new and certified pre-owned vehicles while always providing great customer support and service.
For additional information please visit http://www.infinitioforlandpark.com.
About Automotive Internet Media, Inc.
Automotive Internet Media is a growing provider of digital marketing products and services for the automotive industry. We provide best-in-class products and services such as dealership websites, search engine marketing/pay per click advertising, search engine optimization (SEO), social media services, retargeting, display advertising, vehicle video services, lead generation, email marketing, and consulting to the automotive industry.
Automotive Internet Media is also well-known for their CarClicks inventory marketing program. CarClicks targets auto shoppers who are deep in the purchasing funnel, and drive them directly to the vehicle detail and search results pages of dealership websites.
Automotive Internet Media is headquartered in Chicago, Illinois. For additional information please visit http://www.automotiveinternetmedia.com.