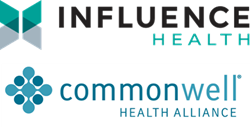 Birmingham, AL (PRWEB) April 11, 2015
Influence Health, healthcares only personalized digital consumer engagement and activation platform, is pleased to announce its general membership with CommonWell Health Alliance. CommonWell, a non-profit trade association, is dedicated to the mission that health data should be available to providers and patients, regardless of where care occurs.
CommonWell is aimed at enabling healthcare providers to manage patient identity, support consent management, and facilitate better coordination along the broad care continuum. Provider access to this data must be built-in health IT, at a reasonable cost for use by a broad range of healthcare providers and the people they serve. Today, CommonWell members are live with these services at 60 provider sites ranging from large acute hospitals to rural specialty practices. CommonWell expects to enable at least 5,000 provider sites to be live on the services nationwide by the end of 2015. Membership is open to healthcare-centric organizations, systems and vendorsall those who share CommonWells drive for interoperability.
Influence Health shares our vision that health data should be accessible to individuals and providers, regardless of where they receive care, said Nick Knowlton, Membership Committee Chair, CommonWell Health Alliance and Vice President, Brightree. We are confident that as we continue to add members such as Influence Health, we can expand our coverage and accelerate the nationwide expansion of real-world interoperability services.
Influence Health goes well beyond just software solutions, providing the healthcare industrys only digital consumer engagement and activation platform and the accompanying services and support to help healthcare organizations meet their strategic and business goals. Comprised of a Digital Marketing Suite and a Population & Patient Engagement Suite, the Influence Health platform solutions work alone or synergistically, enabling organizations to acquire a greater number of new patients, provide a better patient experience, improve patient self-management, and increase patient loyalty. Influence Health will work with the CommonWell Alliance membership to ensure the Population and Patient Engagement suite, which gives hospitals and health systems, Accountable Care Organizations, IPAs and employers everything they need to execute value-based programs is using the latest interoperability standards and promoting the vendor-agnostic sharing of data. The Influence Health and CommonWell partnership will speed health systems in achieving reduced hospital readmissions, effectively managed utilization to lower costs, closed gaps in care and improved quality outcomes.
Influence Health and CommonWell share the mutual vision that it is critical for patient data to be easily accessible, in real-time, to ensure providers have the information they need to make informed decisions for quality care and so patients are able to effectively manage their health, wherever they receive care, stated Bradley D. Case, CMPE, General Manager, Clinical Solutions, Influence Health. We look forward to participating in CommonWell Health Alliance as leaders in healthcare technology work together to improve interoperability and ultimately the patient experience, Case continued.
Influence Health joins CommonWells diverse group of members in pursuit of the Alliances goal of providing better care and outcomes for providers and the people they serve.
For more information on providing patients and providers comprehensive health data for improved population health, stop by the Influence Health booth #3148 at HIMSS15 or visit influencehealth.com.
About Influence Health

Influence Health provides the healthcare industrys only integrated digital consumer engagement and activation platform. The Influence Health platform enables providers, employers, and payers to positively influence consumer decision making, and health-behaviors well beyond the physical care setting through personalized and interactive multi-channel engagement enabling population health management. Since 1996, the Birmingham, AL-based company has helped more than 1,100 provider organizations influence consumers in a way that is transformative to financial and quality outcomes. For more information please visit influencehealth.com.
About CommonWell Health Alliance

CommonWell Health Alliance is a not-for-profit trade association of health IT companies working together to create universal access to health care data. CommonWell is open to all organizations that are committed to making patient data available to providers regardless of where care occurs. Members support the belief that provider access to this data must be built into health information technologies at a reasonable cost for use by a broad range of health care providers and the populations and people they serve.
To learn more about CommonWell Health Alliance, please visit http://www.commonwellalliance.org and read the CommonWell blog. Also follow CommonWell on Twitter at @CommonWell, join us on CommonWells LinkedIn page, and like CommonWells Facebook page.
CommonWell Health Alliance and the CommonWell logo are licensed trademarks of CommonWell Health Alliance in the U.S. and other jurisdictions.