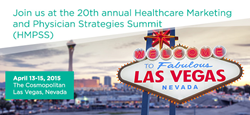 Birmingham, AL (PRWEB) April 09, 2015
Just two months after acquiring BrightWhistle, Inc., one of the industrys top healthcare-specific social marketing solutions, Influence Health will showcase its digital and social marketing capabilities at the 20th annual Healthcare Marketing and Physician Strategies Summit (HMPSS) April 13-15 in Las Vegas, Nevada.
Michael Sengbusch, Influence Healths SVP Product Development, Digital Marketing Solutions, will speak with Matt Gove, Piedmont Healthcares Chief Consumer Officer, and Joel Cohen, Facebooks Client Solutions Manager, on Tuesday, April 14 at 3:45 p.m. PST. The presentation, Facebook for Accountable Care Marketing will examine strategies and client success stories that leverage the latest Facebook marketing techniques to drive business objectives and manage population health.
An increasing number of marketers are beginning to understand that Facebook is more than just a social channel, stated Sengbusch. It has become a powerful vehicle for healthcare to encourage positive patient behaviors and drive measurable results. Were looking forward to presenting with our partners at Piedmont Healthcare and Facebook to share our experience on how marketers can expand their social media marketing efforts for healthier patients.
Additional presentations at HMPSS featuring Influence Health and BrightWhistle partners include:
Wednesday, April 15: