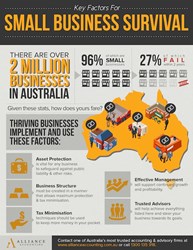 Melbourne, Victoria (PRWEB) November 05, 2013
Earlier this year, Melbourne SEO Services launched their infographic product and have been steadily building up their portfolio of work. Their latest infographic design for Alliance Accounting has spurred on more interest than expected and the online marketing experts are excited about the increase in demand. The company's forward-thinking director Mr. David Jenyns comments about why his graphic team's services are doing so well, "in today's day and age people want information fast, they're becoming more and more visual. Infographics convey a lot of information quickly, but can also be done in a fun way, so it's win-win-win. Win for our clients, win for their customers, and a win for us!"
There are millions of businesses in Australia, many of them considered core or fundamental, such as accounting and law firms. However, those sort of businesses aren't known for having fun, visual content on their websites; so, visitors don't expect engaging graphics when landing on the pages.
This is where infographic design agency Melbourne SEO Services has given their client Alliance Accounting an edge over their competitors. What's more, since the image was launched on the Sydney accountant's website, the marketing experts graphic demand has increased.
The Key Factors For Small Business Survival graphic was released on Alliance's website a few weeks ago. Mr. Jenyns says, "the graphic information is so helpful and interesting. It's made potentially confusing and technical information very easy for the everyday person to digest. It really makes Alliance stand out from the rest."
"Our ability to turn even the most complex statistics into a helpful image is one of the reasons I think the demand for our service has jumped so much," Mr. Jenyns goes on, "that, and our clients always refer other people to us, knowing we treat their business like its our own."
The online marketing expert also mentions that the excitement his clients express whenever his team delivers a graphic is "great because it pumps up my designers for a job well done." Mr. Jenyns says, his clients either purchase infographics as a stand alone product while others, who are on monthly packages, get one done every now and then.
"Infographics really help our clients position themselves as leaders in their industry, which is why we highly recommend creating and using them." He continues, "what's even better is once that graphic is launched and shared, its benefits for our clients will continue to grow long after our work is done."
The leading edge marketing, graphic and web video company Melbourne SEO Services has been building up their portfolio infographic work. Their latest graphic for client Alliance Accounting has created a increase in demand. The company's proud director knows this spike in interest is a result of his team's diligence and quality work. "It's always a pleasure to see what creativity comes out of my team and to then watch the excitement of our clients when we deliver the final product to them." To see Alliance Accounting's Key Factors To Small Business Survival graphic click here, or visit the Melbourne SEO Services infographic design page here: http://www.melbourneseoservices.com/seo-services-australia/infographic-starter/.
About Melbourne SEO
MelbourneSEOServices.com is a full service search engine optimization (SEO) consultancy, based in Australia, but with a worldwide client base.
Known for being at the cutting edge of strategic SEO practices, the company delivers a growing suite of services including: on-page and off-page search engine optimization, article distribution, Google Places listing, press release service, web video production and one-on-one consulting.
Melbourne SEO Services Director, David Jenyns, has, over several years, built a team of experts who are niche experts to support the business, and who share his ethos for ethical, professional internet marketing.