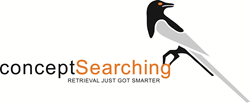 McLean, VA, US and Stevenage, UK (PRWEB UK) 25 March 2015
Concept Searching, the global leader in semantic metadata generation, auto-classification, and taxonomy management software, and developer of the Smart Content Framework, is compiling the statistics from its 2015 SharePoint and Office 365 Metadata survey, currently unpublished. The most significant challenge identified from the responses is information security.
The role of information security is changing rapidly, with the push for organizations to leverage the cloud. Data breaches and hacks are now everyday occurrences. Some have proven extremely costly. Where once the on-premises environment gave organizations a false sense of security, now new challenges have changed the landscape.
According to statistics, most breaches are caused internally, by end users, either maliciously or unintentionally. This requires organizations to not only protect and secure content but also what is contained within the content. A much greater challenge. This high concern about security often prevents cloud adoption and the associated benefits. In the 2015 SharePoint and Office 365 Metadata survey, information security is ranked as the highest priority. 25% considered it a high priority, 25% were actively improving now, and 17% planned to improve within the next twelve months.
End users have proven to be lax in their protection of information that may contain privacy or confidential data. This results in issues with unauthorized access, and the inability to deny portability of any confidential or privacy data. The security of what is contained within content also impacts compliance and information governance, more priorities identified in the survey.
The Concept Searching technology platforms are unique in their ability to identify organizationally defined confidential or privacy content, by easily developing a set of rules that are applied to content as it is created or ingested. This removes the limitations of many security products that are restricted by the descriptors that can be used, such as a social security and credit card numbers. Concept Searching removes those barriers, by enabling organizations to define rules and assign security access levels for any information they deem confidential, such as financial, new product, or eDiscovery information. A combination of auto-classification and workflow processes the content, automatically changes the content type, and moves it to the appropriate repository for disposition.
Security is a very real concern, and I am relieved that this topic has become a boardroom issue, stated Martin Garland, President of Concept Searching. Many of our clients use our technologies to solve this problem effectively. One client, a US government entity, has numerous locations using Concept Searching products to identify potential data breaches and, for the past nine years, since deployed, has not had a single incident. As the technologies are not limited by where the content exists, on-premises or in the cloud, content that needs to be secured can reside in diverse repositories and environments.
About Concept Searching

Concept Searching is the industry leader specializing in semantic metadata generation, auto-classification, and taxonomy management. Platform agnostic, Concept Searching also has a Microsoft Gold Application Development competency, and offers a complete suite of SharePoint and Office 365 solutions. The award winning technologies integrated with Concept Searchings Smart Content Framework encompass the entire portfolio of unstructured information assets in on-premise, cloud, or hybrid environments. Clients have deployed the intelligent metadata enabled solutions to improve search, records management, identification and protection of privacy data, migration, text analytics, eDiscovery, and enterprise social networking applications.
Concept Searching is headquartered in the US with offices in the UK, Canada and South Africa. For more information about Concept Searchings solutions and technologies visit http://www.conceptsearching.com and our Blog, and follow us on Twitter and LinkedIn.
All product and company names herein may be trademarks of their respective owners.