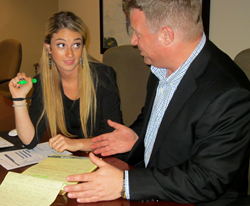 Boca Raton, FL (PRWEB) October 31, 2014
InHealth Media, which represents health, beauty, and wellness brands, has announced an increased commitment to help its clients share their stories and sell more products through the use of social media. For the retail driven, marketing and communications company, this is a natural extension of the creative services provided to its global clients.
When global brands speak, InHealth Media listens, said Mitch Gould, InHealth Media CEO. Bringing a new brand to America brings many challenges. Effective social media marketing can give you an edge over your competition.
InHealth Media continues to explore the use of Facebook as a retail platform. With more than 1.3 billion monthly users, Facebook provides companies a unique opportunity to engage potential customers. While speaking at a recent conference, Facebooks Vice President of Global Partnerships, Blake Chandlee, said that Facebook creates 2.5 times more customers than Google search ads.
Effective social media campaigns will not only bridge the language and cultural gap but also the retail gap, said Ken Okel, Director of Global Communications at InHealth Media. Creative and strategic promotions engage peoples minds and move them closer to clicking the buy button.
InHeath Media has produced fast Facebook growth for Brazilian company, Florais de Saint Germain, which produces flower essences, fresh from the Rainforest. Each essence provides a unique health benefit. While the brand is new to American audiences, it has gained more than 2,900 Facebook page "Likes" in less than a month since its page debuted.
Every product has an audience and we take great pride in connecting with these people online, said Okel. Americans soon realize that other cultures not only can have a different way of life but also different health, beauty, and wellness products.
Meanwhile, InHealth Media continues to explore the power of social media through traditional channels, like LinkedIn and YouTube, as well as newer platforms, such as Instagram and Tumblr.
Never before have we had so many tools with which to connect to the world, said Alex Wachtel, Global Public Relations Coordinator at InHealth Media. Were excited to help our clients take advantage of this Golden Age of Promotion.
For more information about InHealth Media, visit http://www.InHealthMedia.com