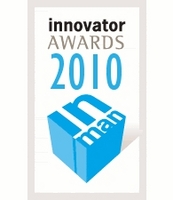 San Francisco, CA (PRWEB) July 21, 2010
Eight ground-breaking companies were recognized at Real Estate Connect San Francisco on July 15, 2010 at the Hilton Union Square and were awarded the Inman News Innovator Award. These eight innovative companies are using technology to break new ground in the world of real estate and marketing and are offering intriguing technologies in the areas of mobile devices, technology, web 2.0, social media and much more.
Each year, Inman News announces the launch of the Inman News Innovator Awards process with a call for nominations several months prior to the Real Estate Connect conference. Nominations are open to all and are submitted online. An Inman News review team considers the nominations and selects a list of finalists, and the finalists are drawn from the nominees and a list of other prospects suggested by the Inman News editorial team. The review team selects the winners from the list of finalists.
Winners were announced in five categories, with an additional two individual awards. Also, one finalist was honored with a first-ever People's Choice Innovator Award, selected based on voting in an online survey.
The winners are:
Most Innovative Brokerage or Franchise: The GoodLife Team

The GoodLife Team, a boutique real estate firm based in Austin, Texas, takes an agent team approach to its brokerage. The small company has a focus on training and technology and is led by Krisstina Wise, principal and broker. The website features property, neighborhood and school details and information about area activities.
Most Innovative New Technology: ZipRealty's HomeScan

The ZipRealty HomeScan iPhone app feature incorporates multiple-listing-service-based property information with augmented reality — users can point their smart phone's camera within the neighborhood where they are standing to view an overlay of nearby homes that are for sale or recently sold. ZipRealty's app also offers photos, maps and details on for-sale homes in about 4,900 cities.
Most Innovative Web Service: Houston Association of Realtors' Realtor Match

Realtor Match, created by the Houston Association of Realtors, allows consumers to search for Realtors based on ratings from consumer surveys and based on their transaction history, such as sactive listings and closed sales. Users could search for Realtors by map area. Agent complaints prompted the association to cut the search tool from its standard Realtor-search tools accessible at HAR.com, though this award honors the innovation as originally designed and launched.
Most Innovative Blog: Tech Savvy Agent blog

The Tech Savvy Agent blog features three real estate voices, including Stephen Pacinelli, Suzanne Roy and Chris Smith. The site offers up hardware and software reviews, videos, tech advice and tips, and integration with social media. A recent post sparked over 300 tweets on Twitter and 264 "shares" on Facebook.
Most Innovative Media Site: ProPublica Eye on Loan Modifications

ProPublica is an independent, nonprofit news agency that has a mission to produce investigative journalism in the public interest. ProPublica's Eye on Loan Modifications project continues to shine a light on actual performance of large servicers participating in the federal government's loan-mod programs and serves to connect those homeowners who have sought loan mods with journalists who are working on related articles.
People's Choice Award: DocuSign's ESIGNControl app

The DocuSign ESIGNControl app allows real estate professionals to send and receive documents from their iPhone to be electronically signed by buyers and sellers, and also allows professionals to oversee document details and corrections.
Innovator of the Year No. 1: Sherry Chris, president and CEO of Better Homes and Gardens Real Estate LLC.

Sherry Chris has served in executive roles for a range of large brokerages across the country and in Canada, including Royal LePage, Real Living, Prudential and Coldwell Banker, and most recently served Realogy Corp. in launching the Better Homes and Gardens real estate franchise. Her forward-thinking approach to social media, technology and branding has helped to grow this new franchise. During the Real Estate Connect conference Chris discussed a just-launched "Beta Brokers" Web project that profiles a number of real estate industry innovators.
Innovator of the Year No. 2: Dale Stinton, CEO, National Association of Realtors.

Dale Stinton, CEO for the National Association of Realtors, helped to launch the association's Second Century Ventures, an incubator for tech innovation. His leadership has also brought about the deal to form Realtors Property Resource — a massive national property database project now in development. He also oversaw a partnership by NAR with e-signature provider DocuSign, and the launch of the Game Changers program that has fostered innovation at Realtor associations across the country, as well as the Right Tools, Right Now initiative to put useful resources into the hands of member Realtors.
Since their inception in 1997, the annual awards have recognized companies including LendingTree, Coldwell Banker, Sawbuck Realty, Redfin, ActiveRain, vFlyer and Closing.com, and individuals including Frank LLosa of Frankly Realty and FranklyMLS.com, Bob Hale of the Houston Association of Realtors, and Mark Lesswing of the National Association of Realtors' Center for Realtor Technology.
For additional information, please contact Katie Lance, Marketing Manager, Inman News at (510) 658-9252 ext. 147 or katie (at) inman (dot) com
About Inman News | Inman News (http://www.inman.com) is the leading source of independent real estate news, information, advice, research, technology, opinion and commentary for industry professionals and consumers alike. Inman's unbiased and hard-hitting stories are known throughout the real estate industry. Agents and brokers globally trust Inman News as their first source of accurate, innovative and timely daily news.
Inman News produces the executive level Real Estate Connect conference twice a year, once in New York and once in San Francisco. This three day, high-level event focuses on the future of real estate marketing and technology. Inman News also produces Agent Reboot, a one-day event geared toward real estate agents to get them up to speed on the latest real estate technologies and strategies. Agent Reboot will be available in 12 cities in 2010.
###