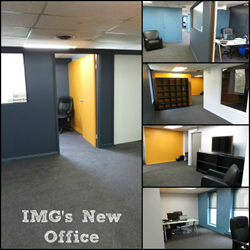 Toronto, ON. (PRWEB) October 14, 2014
Innate Media Group (IMG), a digital marketing agency based in Toronto, revealed that they have relocated to a new office within their current office building. The purpose of the move was to support the companys rapid expansion. In addition to the new office space, the agency also launched a new website.
The new office, now located on the third floor, is considerably larger with multiple rooms and an upstairs patio. IMGs creative team will now have more creative triggers at their disposal – among them, many more large windows which provide a grand view of the historic Toronto neighbourhood in which theyre located.
On the digital side of things, Innate Media Group also highlighted some of the changes their website underwent. The team addressed three key areas of their site: 1) Its responsive web design (to ensure it functions across all platforms, including tablets and mobile phones), 2) a slight logo change, and 3) added several case studies to their already robust portfolio. These changes will fortify IMGs reputation in the digital space, while simultaneously giving the firm a stylish new look.
About Innate Media Group
Innate Media Group (IMG) is a digital marketing firm based in Toronto, Canada. Launched in late 2004, the agency functions as a full-service stop for clients who want to build their brand by means of digital methods. The agency is well-versed in various disciplines, including web design, web development, Search Engine Optimization (SEO), social media marketing, and copywriting. IMG services clients of varying industries, including (but not limited to) the construction, beauty, and legal sectors. The company employs a staff of writers, strategists, programmers, and other talented individuals.
Innate Media Group Inc.

66 George Street, 3rd floor

Toronto, Ontario

M5A 4K8

1-800-594-8896